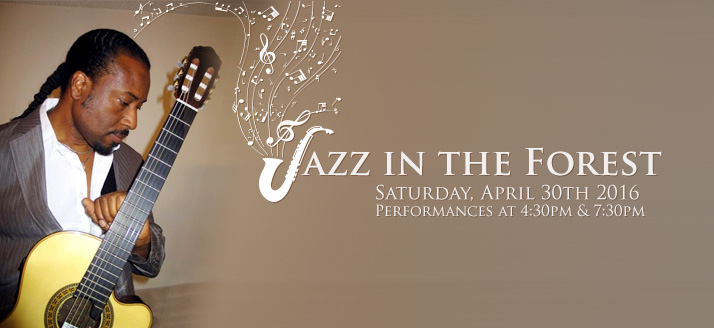 The 2016 Jazz in the Forest series continues with two performances (4:30pm & 7:30pm) on Saturday, April 30, and will feature the Jazz guitar artistry of Curt Warren and Grammy-nominated guitarist Reggie Griffin with Volcano Art Center's Jazz Ensemble. The Jazz in the Forest concert series offers an extraordinary opportunity to hear the highest caliber jazz – anywhere – up close and personal.
For years, Curt Warren was the featured guitarist with the US Navy's official Jazz Ensemble, "The Commodores" based in Washington DC. Warren recently completed 31 years as Professor of Guitar at the University of Texas in El Paso. Through the years, has toured the World and recorded with various Jazz Greats such as Billy Eckstein, Monty Budwig, Della Reese along with being a featured Artist at the Newport Jazz Festival. Don't miss the World-Class Jazz Guitar Stylings of Mr. Curt Warren!
Reggie Griffin is the nephew of one of the greatest Jazz artists of all time, Clifford Brown, and for years worked as co-producer alongside legendary producer Arif Mardin of Atlantic Records. Griffin has recorded and toured with and/or produced /co-produced hits for Chaka Kahn, Boyz 11 Men, Aretha Franklin, Toni Braxton, OJays, Isley Bros, Roberta Flack, Babyface, Patti LaBelle to name a few. His guitar is heard on numerous pop/R&B/hip-hop hits over the last few decades, including Roberta Flack's Hit: "Killing Me Softly With His Song" where Reggie is heard on the original recording playing Acoustic Guitar. Griffin currently tours the world with Babyface and Isley Bros.
The Wine and Beer Room will be open for attendees to enjoy before and after the concert. And as usual, an area has been set aside for dancing, so you don't have to stay in your seat when the band starts to swing and you're moved to your feet.
Two shows will be offered, with a matinee at 4:30pm and an evening performance at 7:30pm. Tickets are $20 for VAC members ($25 non-members) for BOTH SHOWS! Ticket holders will be able to purchase Volcano Red Ale and Mauna Kea Pale Ale from Mehana Brewing Company & as well as wine before each performance.
Tickets are available for sale online,  at VAC's Administration Office in Volcano Village, VAC Gallery in Hawai'i Volcanoes National Park, and at Basically Books in Hilo. The last day to purchase tickets online, at VAC Gallery, or Basically Books is Friday, April 29. After that, tickets will be sold at the door if they are not sold out. Tickets will be held at Will Call on the day of the show. OR, you may pick them up any day before the show at Volcano Art Center's Niaulani Campus Administrative Office, Monday through Friday, 9am-5pm.
Give us a call to order tickers
OR