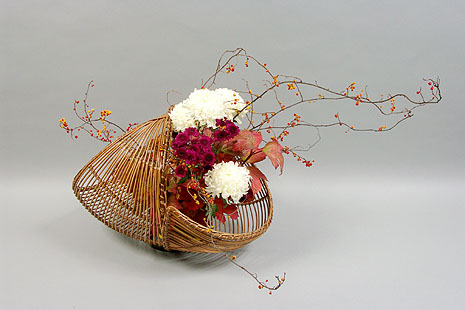 Volcano Art Center is proud to offer the hands-on "Introduction to Sogetsu Ikebana" workshop with Nancy "Sorin" Locke on Thursday, October 8, 2020, from 10am – 1pm at Volcano Art Center Niaulani Campus in Volcano Village. Students will have the opportunity to create their own arrangement after a detailed step-by-step demonstration by the instructor. This workshop is suitable for beginners and no prior experience is necessary.
In this workshop, students will leave with a basic understanding of fundamental design principles of ikebana and how it differs from Western floral design. You will also learn the basic history and aesthetic principles of ikebana and its relationship to Japanese art and culture. Other topics covered include introduction to cutting and stabilizing techniques specific to ikebana, as well as an introduction to aesthetic concepts of Line and Mass.
 Course fees are $55/$50 VAC members plus a $25 fee, inclusive of supplies. Floral materials and handouts will be provided. Students must bring their own container, shears, and pinfrog. Please view the supply list below.
Due to social distancing measures, the class size will be limited to 8. Students must wear a CDC recommended face covering during class and are required to use the provided cleaning supplies after class.
With more than 20 years of ikebana experience, Nancy "Sorin" Locke has earned advanced teaching certificates from two schools of ikebana — Sogetsu and Wafu – giving her a strong background in contemporary design theory and technique. In 2016, she was promoted to Somu rank in Sogetsu School. Nancy has been teaching ikebana in the San Francisco Peninsula area since 1998. Combining her expertise in ikebana design with her enjoyment of horticulture and gardening, she inspires her students to create beautiful fresh arrangements and to see floral materials with "fresh eyes." For 10 years, she served as a board member of the San Francisco Bay Area Chapter of Ikebana International. Nancy's arrangements have been exhibited at the Asian Art Museum in San Francisco; in many Ikebana International shows in San Francisco; the Filoli Spring Flower Show in Woodside, California, and at the Bouquets to Art show also in San Francisco. "Sorin" is her Sogetsu School of Ikebana 'flower name.' It translates as 'Forever Renewed Sparkle.' For more information, visit www.ikebana-nancy.com.
This workshop is FULL! Please contact VAC to be placed on a Wait List.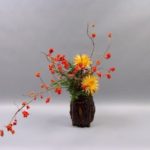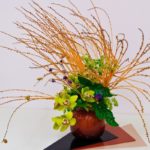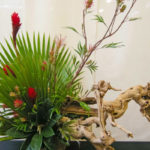 Student Supply List
A flat-bottomed, wide opening, shallow container. Specifically, a 12"-diameter (30cm) round moribana container, called a "suiban."
Sold on Amazon. Search: Classic Round Ikebana Container Flower Bonsai Suiban Vase Pot Tray Vase fit for Ikebana Flower Arranging Tabletop Decoration (33cm)
A 9×13" glass baking pan will suffice.
"Hasami" ikebana shears.
Sold on Amazon. Search: Kotobuki Ikenobo Flower Arranging Shears.
A pair of hand-held garden pruners will suffice.
"Kenzan", a 3-1/4" diameter round ikebana pinfrog. Or a similarly sized rectangular pinfrog.
Sold on Amazon. Search: Japanese Ikebana Kenzan Flower Frog Round, 3 1/4″ Inches
Ben Franklin may have this item. There is no substitute for a pinfrog that will suffice. **Please do not bring a small or plastic pinfrog.