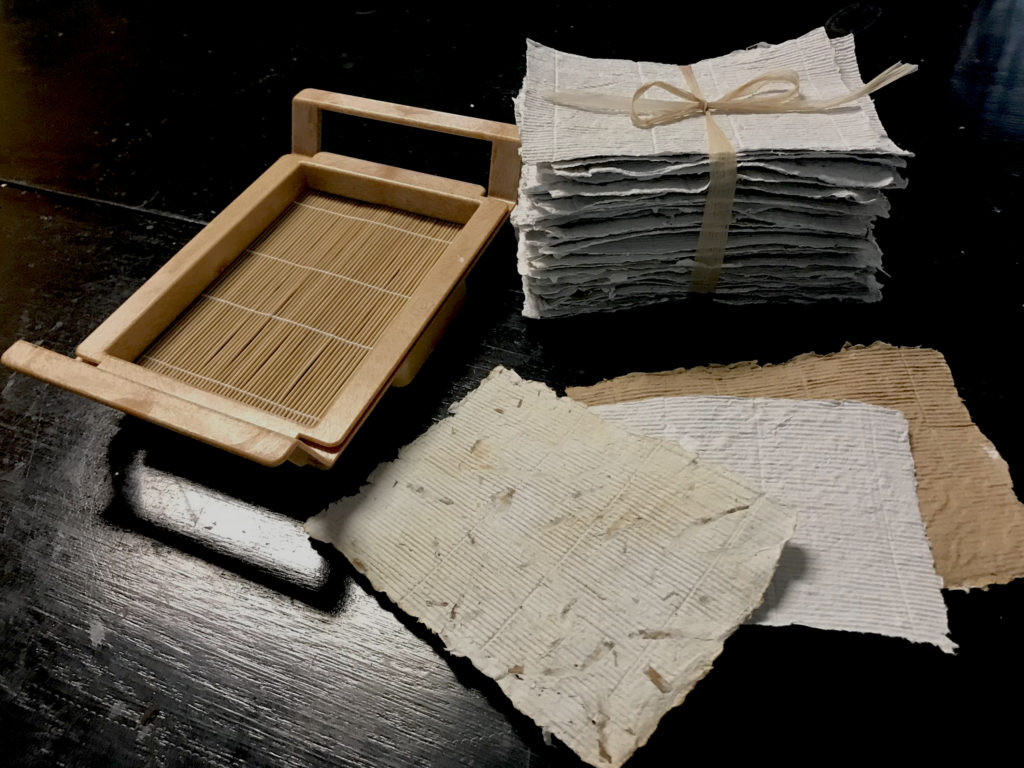 Join artist Mary Milelzcik for the "Introduction to Paper Making" workshop on Saturday, September 12, 2020, from 10am – 3pm at Volcano Art Center Niaulani Campus in Volcano Village. Learn the basics of making your own paper, and recycle at the same time!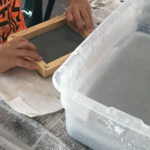 This papermaking workshop, using a household blender, will introduce you to papermaking using recycled papers with various additives, including cotton linters, and local plant materials. Students will use a postcard-sized Japanese suketa to make several sheets of paper and move on to using larger sized moulds and deckles and alternative screens to create larger pieces. You are encouraged to bring dried plant material, colored papers, and other items to add to the pulp or imbed in their paper. You will leave with a basic knowledge of papermaking, a variety of papers, your mould and deckle, tub, felts, shredded papers, resource list, and instructions on how to make paper at home using an old blender or drill attachment paint mixer. Bring lunch! An hour will be for a lunch break, critique, and Q &A.
The class fee is $60/$55 for VAC members plus a $38 fee, inclusive of supplies.
Advanced Papermaking workshops (TBD) will be held at Arts Asylum studio in Pahoa for participants who have basic papermaking experience. The focus will be papermaking using local fibers, and cover the selection and preparation of fibers, to making paper. Plant fibers will include pineapple, banana leaf, fruit & pseudo stalk, and lemongrass. A variety of larger sized traditional and alternative moulds and deckles will be available for use.
Mary Milelzcik has a B.A. degree from Sonoma State University's School of Expressive Arts, a radical two-year upper division interdisciplinary experimental program, where you worked with a mentor, and chose your own path in upper-division art. Printmaking and papermaking were her focus. This transformative experience set the path for an interesting career as a mixed media artist and photographer; as the Curator at Highways Performance Space and Gallery in Santa Monica CA for ten years; and as an instructor of mixed media encaustic art, papermaking and printmaking. Currently, she is exploring the integration of hand-ground local pigments and organic materials into her handmade paper from local plants, and mixed media encaustic work. Her artwork has been shown internationally. Workshops are held at her Arts Asylum studio in Pahoa by appointment.
This workshop is FULL! Please contact VAC to be placed on a Wait List & to be informed of future classes. 
To register, call Volcano Art Center at 808-967-8222
OR