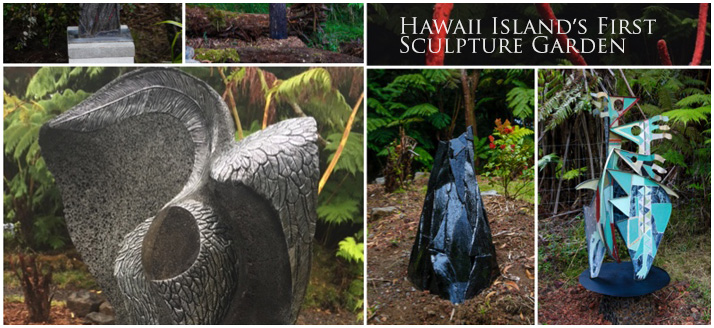 Volcano Art Center is proud to announce that Hawai`i Island's first outdoor sculpture garden was dedicated on September 18th , 2016. The garden, located at Volcano Art Center's Niaulani Campus (19-4074 Old Volcano Rd.) in Volcano Village, provides a space for Hawai`i's talented sculptors to share their works. The dynamic interplay of sunlight, mist and rain that is Volcano's variable weather, against a backdrop of old growth `ohi`a – koa rainforest, provides the ideal setting for outdoor sculpture. Inspired by the unique nature of Kilauea, artists' creations are enhanced with a sense of place.
The initial exhibit's invited sculptors are Henry Bianchini, Ethan Froney, Elizabeth Miller, Randall Shiroma, Jonathan Sudler, Lonny Tomono, and Glenn Yamanoha. The Volcano Art Center is also honored to permanently exhibit Randall Takaki's Guardian. Sculptures on display are created from a variety of stone, metals and wood. The inaugural invitational exhibit is open to the public until July, 2017, thus over time the exhibit will provide the visitor with changing artwork as nature interacts with the media.
The venue itself is a landform sculpture. Under the direction of landscape architect, David Tamura, the once lawn-covered backyard of Volcano Art Center's Niaulani administration building has been transformed into an inviting, walkable exhibit space. Many volunteer hours and donations of native plants helped develop the venue into a quintessential Volcano garden. The design allows expansive as well as intimate views of the artwork to visitors.
A performance deck is included in the garden offering a space for daytime concerts and lectures. In addition, weekly guided tours which include the sculpture garden as well as the adjacent forest, are offered Mondays at 9:30 am. Visitors are also welcome to enjoy self-guided tours weekdays between the hours of 9am and 5pm.
The opening reception on September 18th began with a blessing by Kumu Moses Crabbe and included music by Larry Broido and Loren Brownlea as well as light pupu and refreshments.
To see pictures of some of the sculptures, click here!
Development of the Niaulani Sculpture Garden is made possible by grants from the Atherton Family Foundation and the Cooke Foundation. For additional information, please contact Julie Williams at (808) 967-8222.