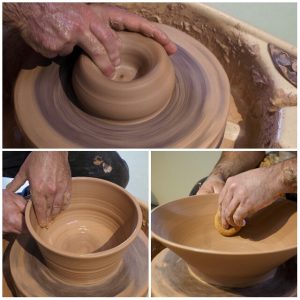 Teaching artist, Erik Wold, will provide instruction for these classes. Our morning class will explore a variety of handbuilding techniques including pinch, coil and slab construction methods. Our afternoon class will focus on the essentials of forming vessels on the potter's wheel. Kilns and firing stages will be explained and you'll learn how to glaze your pots. All skill levels are welcome.
This is an eight-week workshop beginning Saturdays, July 16, through September 3, 2022. There will be a morning session Handbuilding with Clay from 10:30am – 1:30pm or an afternoon session Wheel Throwing with Clay from 2pm – 5pm.
Cost for either session is $200/$180 for VAC members plus a $28 materials fee for 6 lbs. of clay, which includes glazes and firing for that material, along with a facility fee. Additional clay will be available for purchase. To register, call Volcano Art Center at (808) 967-8222 or visit www.volcanoartcenter.org.
Our open and well ventilated ceramics studio includes a covered outdoor work area in a rainforest setting. Open Studio time will be available to registered students on Wednesdays from 2 – 5pm. Cost is $10 per day, with punch cards available at the Administration Office front desk during business hours, Monday through Friday, from 10am – 4pm. Must be registered for a ceramics class to participate.
Erik Wold studied Art, specializing in Ceramics, at the University of Hawaii at Hilo.