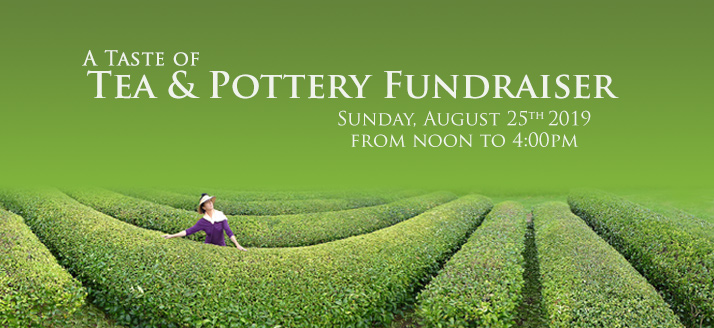 The 3rd Annual A Taste of Tea & Pottery event will be held on Sunday, August 25th, from 12noon – 4pm at Volcano Art Center Niaulani Campus in Volcano Village.  This event is a fundraiser for the "Fire Arts Programs" which includes ongoing ceramics and glass classes and workshops at the Volcano Art Center.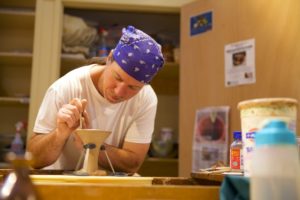 The annual fundraiser, now in its third year, helps fund VAC's "Fire Arts Programs" which include ongoing ceramics and glass classes and workshops. Admission is $30 for VAC Members or $35 for non-Members and includes your choice of one hand made tea cup or bowl, a tasting of several freshly brewed Hawai'i grown teas, and the option to participate in a traditional Japanese tea ceremony.
Enjoy door prizes and a silent auction as well as cookies, packaged tea and tea cups which can be purchased additionally. Attendees will again be able to vote for their favorite Hawaiʻi grown tea through the Taster's Choice Award.
Throughout the afternoon ceramics students along with VAC's instructor, Erik Wold, will be in the studio offering a hands-on experience with clay along with ongoing demonstrations of wheel-thrown pottery techniques.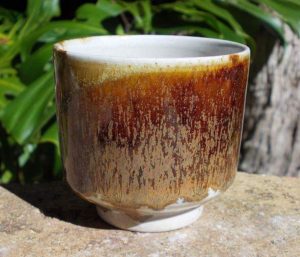 Eva Lee, from Hawai'i Tea Society and co-founder of Tea Hawai'i & Company of Volcano will discuss tea cultivation in Hawai'i for small family farms and the global market. Lee will also present a summary on the pre event fund raising Arts & Tea Culture Workshops which were made possible by the support of Volcano ceramic artist guest instructor and tea grower Chiu Leong, and Chado practitioner artist Philippe Nault infusing tea culture with Hawaiʻi agriculture.
A Taste of Tea & Pottery event is co-sponsored by the State of Hawaiʻi Department of Agriculture and helps support VAC's ongoing ceramics program which offers educational opportunities in clay in an atmosphere of camaraderie and shared inspiration where students learn from one another at the ceramics studio in the unique rainforest setting of Volcano, Hawaiʻi.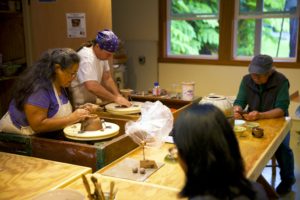 Attendees of the fundraiser will have the opportunity to try a variety of clay forming methods, including handbuilding and wheelthrowing. During the event, VAC ceramics students, along with pottery instructor Erik Wold, will be inviting attendees to get their hands in clay in the ceramics studio.
All are welcome to join in or simply observe the action and get a taste of what VAC's ceramics educational program has to offer. For those whose interest is sparked, there is always the opportunity to register in one of our regular session series of classes offered throughout the year.
"While sustained practice is crucial in developing the skills needed to explore the medium of ceramics in depth, this event is intended to be a fun introduction for those curious to try their hand at working with clay", states teaching artist Erik Wold. Wold studied Art, specializing in Ceramics, at the University of Hawai'i at Hilo, graduating in 1993. Erik's primary focus has been creating functional high-fired pottery. Erik has been instructing all skill levels, from those entirely new to working with clay, to advanced students in both wheel throwing and handbuilding techniques since VAC began its ongoing ceramics programs over three years ago. Key areas of interest have been in the pottery traditions of Japan and most recently, East African Handbuilding methods which Wold will also demonstrate at the event.