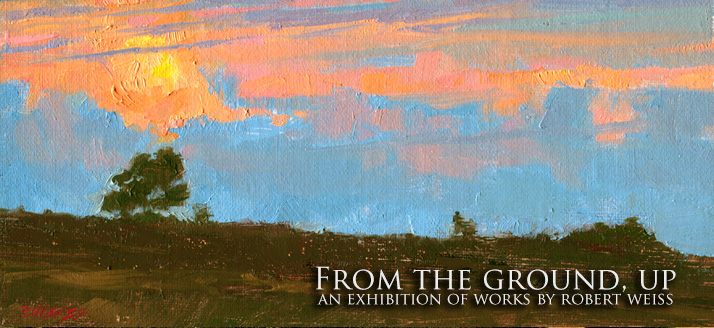 We will be presenting recent artwork by Robert (Bob) Weiss in an exhibit titled From the Ground, Up beginning October 10th – November 15, 2015. The solo show features a new collection of 'plein air' oil paintings of landscapes within Hawai'i Volcanoes National Park. From the Ground, Up will be on display from 9am to 5pm daily at the Volcano Art Center Gallery. The exhibition is free to the public though park entrance fees apply.
Inspired by the beauty of the island, Weiss paints 'en plein air', a French expression which means "in the open air," and is used to describe the art of painting outdoors. Since 2006, Weiss has been an ardent practitioner of plein air painting, the art of painting directly from nature. Working alone and with the Plein Air Artists of Hawai'i Island (PAAOHI), he has focused on capturing the light, energy, and beauty of the varied and stunning landscapes of the Big Island of Hawai'i.
Weiss studied illustration and graphic design, as well as printmaking at Pratt Institute in Brooklyn, NY, and worked in New York City as an advertising art director and studio artist. In 1985 he started practicing the art of scrimshaw and began showing works at the Mystic Maritime Gallery in Mystic, CT. Shortly thereafter, Robert left the commercial art world behind to work at scrimshaw full time. At about the same time he began a study of Classical Realism at The Reilly League of Artists in White Plains, NY, attending daily painting and drawing sessions.
Robert Weiss is internationally known as one of the foremost scrimshaw artists in the world. He has received numerous awards for his work including the prestigious Rudolph J. Schaefer Maritime Heritage Award, a record three times, given by the Mystic International Marine Art Exhibition.
In 2006 he and his wife, Gail, moved to the Big Island of Hawaii. Much of his work is devoted to landscape painting, and lately he has been drawn to paint the old houses and industrial infrastructure from the bygone plantation era on the Hamakua Coast. "There is a certain beauty and sadness in these crumbling structures, and I'd like to preserve a bit of it in my paintings before they are gone", he says. Bob and his wife are also avid bird watchers and he has recently begun a series of works depicting the remaining indigenous birds of Hawaii.
Volcano Art Center is excited to witness Bob's incredible eye for detail as well as his personal challenge of "getting onto the canvas what it is I am seeing and responding to."
"Many of the sites Bob has chosen for his plein air paintings are here at Hawai'i Volcanoes Nationals Park," states Gallery Manager Emily C. Weiss. "The locations are near and dear to many that visit this special place and Bob's unique ability to capture these special places in paint is truly breathtaking."
Weiss will lead a teaching demonstration at Volcano Art Center Gallery on Saturday, October 24 from 9am – 12noon with a special focus of how to start a painting. Participants are asked to meet at VAC gallery porch and if weather permits, the group will choose a scenic location within the park. Participants are welcome to paint along (if interested please request a materials list when registering.) Although this is a free event please call (808) 967-7565 to register.
The artist will be present at an opening reception on Saturday, October 10th from 5 to 7pm.