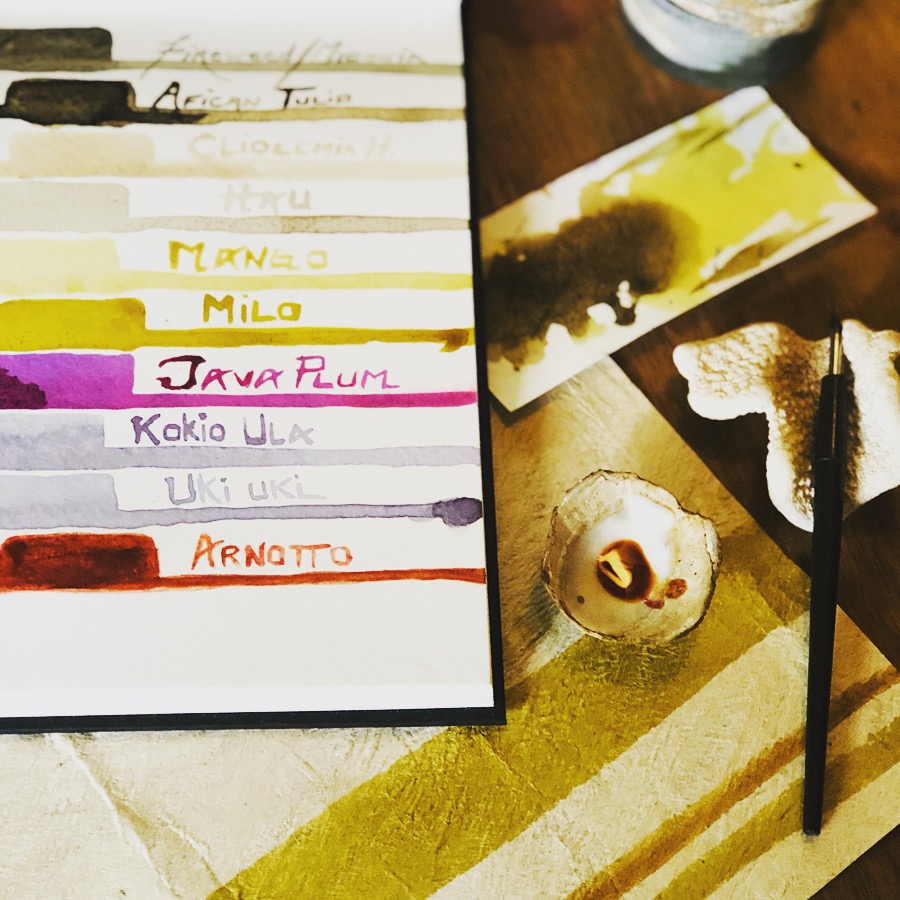 Learn how to create colorfast dyes, inks, and paints from common and invasive locally sourced plants in the "From Plant to Pigment" workshop with Puakea Forester on Saturday, August 8, 2020, from 10am – 4pm at Volcano Art Center Niaulani Campus in Volcano Village. This workshop is perfect for painters and kapa enthusiasts alike who are interested in expanding their knowledge about natural dyes.
The workshop will begin with extracting tannins and mordants from plants and minerals to create color and washfast dyes on fabric. Students will then learn natural dye making which can be transformed into inks, watercolors, and printing paste for a longer stable shelf life, and greater variety of applications on both paper and fabrics.
 Course fees are $95/$90 VAC members plus a $65 fee, inclusive of supplies. The supply fee includes informative handouts to keep track of your samples and recipes, samples of 2 mordants, 3 inks, 3 paints for home use, and study references of stamping, dying and painting on bark cloth, watercolor cards, fabric for face masks, muslin(cellulose), and silk fabric(protein). Bring your own jars to take dyes, mordant/tannins, and paints home, as well as a lunch. Due to social distancing measures, the class size will be limited to 10. Students must wear a CDC recommended face covering during class and are required to use the provided cleaning supplies after class.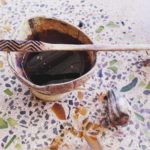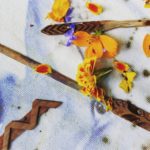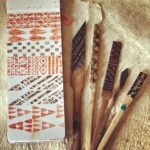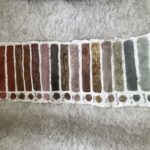 Jani K. Puakea Forester was born in Kahuku, O'ahu to Rebecca, a woodworker, and Jan Fisher, an art professor at Brigham Young University-Hawaii for more than 20 years. Puakea attended Ka'a'awa Elementary School where her kumu (teacher) Aunty Kawai Aona-Ueoka, instilled in her a love for hula and making kapa. As haumāna (students) of Aunty Kawai, Puakea would go to her home and learn to plant, harvest and process the wauke (paper mulberry) in her yard. When Puakea moved to Hawai'i Island in 2015, she studied kapa making with Roen Hufford and immersed herself in all things kapa in order to be as true to the arts as possible. She also studied with O'ahu-based Dalani Tanahy. Puakea is a teacher of kapa but insists that she is not a kumu—that she is here to share her kapa aloha and to walk side by side with the people she teaches. She has brought the ancient to the contemporary by creating beautiful high-end women's leather handbags, dress shirts, mu'u mu'u, belts, and jewelry by attaching kapa as the primary ornamentation. She holds classes and workshops as well as retreats for anyone interested in learning to make implements, plant pigments and kapa.
This workshop is FULL! Please contact VAC to be placed on a Wait List.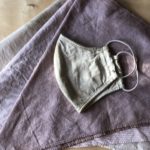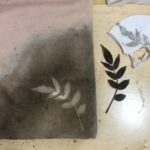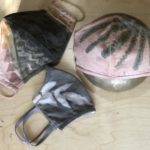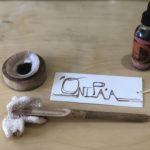 To register, call Volcano Art Center at 808-967-8222
OR