Situated in a restored native rain forest, The Volcano Art Center (VAC) provides an intimate experience for people to engage with Hawaiʻi's rain forests, plants, and native birds through its Niaulani Rain Forest.  Year round forest programs focus on Hawaiʻi's unique natural heritage, deepening the understanding of the land and its natural systems and highlight how to be stewards of Hawaiʻi's most precious environmental resources for generations to come.
To celebrate the healthy rain forest at Niaulani, VAC invites the community to the Annual Forest Fair!  This one-day celebration is scheduled for October 8th from 10am – 3pm at the Volcano Art Center's Niaulani Campus (19-4074 Old Volcano Rd.) in Volcano Village.  The day will highlight features of the Niaulani Trail Enhancement Programs including the unveiling of new interpretive signage, displays, vendors, free forest tours, lei making, hula performances and plant and book sales. This free event will provide information on sustainable art, products and agriculture from the Islands making a fun, engaging event celebrating Hawai'i's natural resources.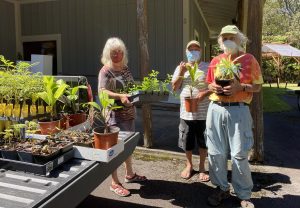 A native plant sale hosted by island residents Allie Atkins and Ed Clapp start the day beginning at 10am.  Endemic plants such as Ko'oko'olau, Kupukupu, and lama and others will be available for purchase. Allie Atkins of Lehua Lena Nursery will give a "Landscaping With Native Plants" talk beginning at 12 noon. Guided rain forest tours will be lead at 11am, 1 and 3pm, with self guided tours of the 1/7 mile Niaulani Trail ongoing.  A hula performance by members of hālau Ke ʻOlu Makani o Mauna Loa under the direction of Kumu Hula Meleana Manuel will perform from 1-2pm.  Both VAC Galleries will be open with special discounts on items relating to the Hawaiian rain forest made by local artists.
Saturday, Oct. 8th is also the Second Saturday of October!  This month's event at VAC features The Best Bratwurst Fundraiser beginning at 11am. Lanikai Brewery will be making a special appearance sharing beers for purchase just in time for Octoberfest!  The day will end with The Volcano Art Center's Sounds at the Summit concert series at 5:30pm featuring Constant as the Moon.  Tickets are $25 for VAC members ($30 non-members)!
Please visit www.volcanoartcenter.org to participate in VAC's Forest Fair and Second Saturday events.  Your support will helps VAC continue its long tradition of environmental programming.  Support from Hawai'i Tourism's Community Enrichment Program allows these events to take place. Call 808-967-8222 for more information.