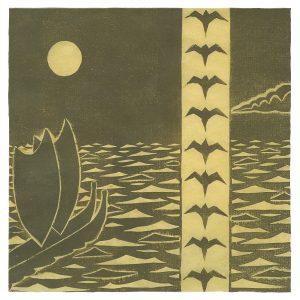 Volcano Art Center is proud to announce the exhibition Reflections by Gary Eoff.  The exhibit which features prints, cultural reproductions and kapa will open at the Volcano Art Center Gallery in Hawaiʻi Volcanoes National Park on April 9th and will continue through May 15th, 2022.  The gallery is open daily from 9am -5pm,  admission is free however National Park entrance fees apply.
Gary Eoff has resided in Kona since 1981 and works as an artist and craftsman influenced by Hawaiian culture and traditions. Inspired by the expert craftsmanship, the high level of aesthetics and the natural materials used in the culture of old Hawai'i, his work is noted for its attention to detail, its authentic designs and use of traditional materials and processes.  He grows, gathers and harvests his natural materials in a manner that sustains the forest: always careful to nurture the plants and help them to reproduce more than was taken.
Gary's love of Hawaiian traditions, especially the voyaging canoes, is reflected in the themes of his prints and artwork.