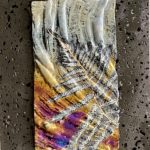 Immerse in Hawaiʻi Island's magnificent colors through the glass works on display in the exhibition Nani Moku, at the Volcano Art Center gallery in Hawaiʻi Volcanoes National Park. The show opens to the public on January 8, and continues through February 20, 2022, from 9 am – 5pm, daily. While admission is free, park entrance fees apply.
Fused glass pieces, created with vivid color and rich texture, by Marian Fieldson and Leslie Jean highlight both the beauty and diversity of Hawai'i's unique landscape.  Textured plates, platters and forms in the exhibit are formed directly from Hawai'i Island lava flows. Patterns for the kilncasts Marian used were taken directly from pahoehoe lava. First, she arranges pieces of specialized stained glass over the refractory pattern. They are heated to over 1450° for 30 hours or more until they are fused and liquid. After slow cooling, the new cast is heated a second time into its final form.  Marian says, "I relish the excitement of planning and then discovering what happens in each individual piece as it is created."Marian has been creating glass using the technique of lampworking since 1981.  Lampworking is a type of glasswork in which a torch or lamp is used to melt rods of glass. Once in a molten state, the glass is formed by blowing and shaping with tools and hand movements. It is also known as flame working or torch working, as the modern practice no longer uses oil-fueled lamps.
Marian studied at the famed Pilchuck School with Ginny Ruffner and Bandhu Dunham. She created lampworking for gift stores in California, developing a line of signature figures. In Hawai'i, she has owned and operated retail kiosks specializing in Hawai'i glass on O'ahu, Maui, and in Hilo on Hawaiʻi Island. She has taken workshops with Michael Mortara and goblet blowing with Brian Kerkliviet. Marian's work appeared in a 2002 issue of Glass Art magazine.
In addition to Marians textured works, Leslie Jean will display stone, glass and ceramic tile mosaics.  Leslie has been a commercial and graphic artist for the past 30 years. Various life experiences including being a dive master aboard the dive boat MV Impossible Dream in the Bahamas, as well asworking underwater construction at Dock Side Services which has provided her a different perspective on life and her art. Inspired by nature, she considers herself an earth-based artist. Six years ago Leslie began creating mosaics with Hawai'i artist Karin Seawater. Her mosaic can be viewed within the Community Alphabet Project at Lincoln Park in Hilo, Hawaii.  She also creates large format mosaic installations in private homes. Leslie states "Everything to me is art, from yard art to the food on my plate, I find comfort in the lines, colors and textures. I believe art heals the soul" and that art is a lens in which to view the world."