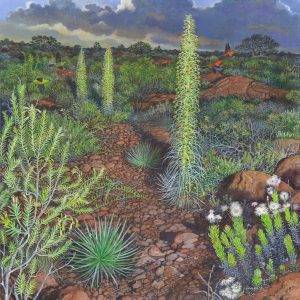 Exhibit: Flowers We Met Along The Way by John Dawson
On display August 21, and continues through September 26, 2021, 9 am – 5 pm, daily at Volcano Art Center Gallery in Hawaii Volcanoes National Park.
The exhibit, Flowers We Have Met Along The Way features twenty new acrylic paintings of scenes John encountered while working with Hawaiʻi Volcanoes National Park from 1990 -2020.
John D. Dawson was born and raised in San Diego, California.  With the support of his parents, John was encouraged to follow his dreams of a career in art. John graduated from the Art Center School in Los Angeles, California which is now The Art Center College of Art and Design. John served in the Army Reserves while beginning his art career. Detroit, Michigan, and automobile art kept him occupied for a year after college when he returned to San Diego and entered the world of advertising.  John's gift of illustration offered him full-time employment for sixteen years while completing free-lance illustration jobs on the side.