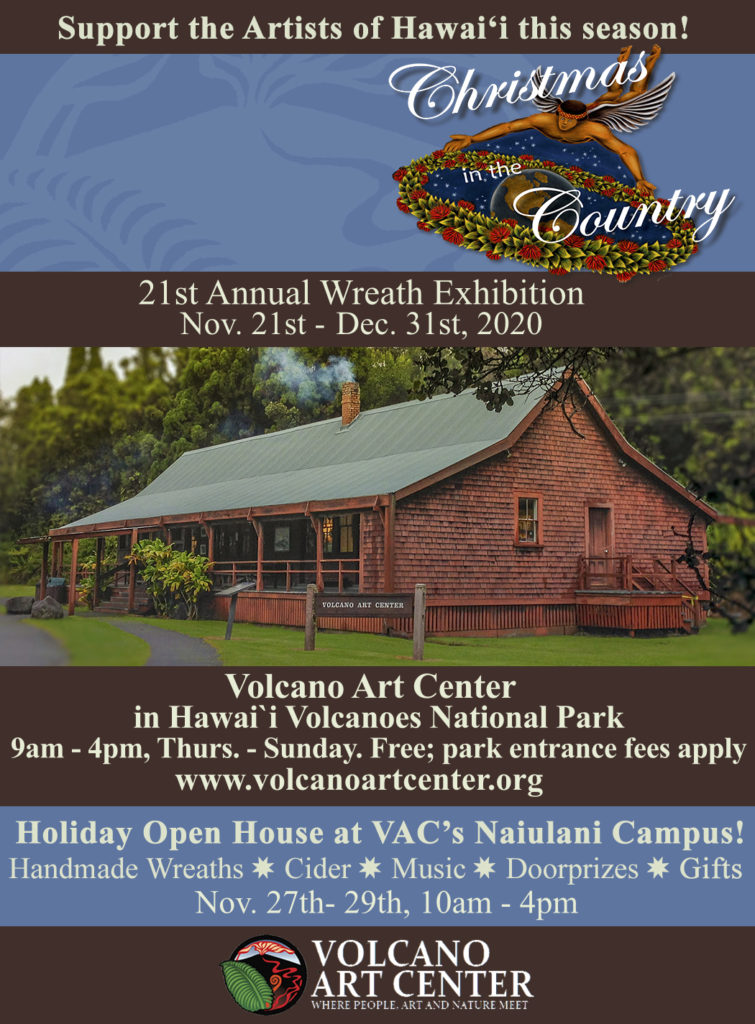 EXHIBIT: Christmas in the Country, featuring the 21st Annual Wreath Exhibition
November 21, 2020 – December 31, 2020
You're invited to the Christmas in the Country & the Virtual Preview of the 21st Annual Wreath Exhibition!
Volcano Art Center wishes to thank you for your continued support through this unusual year!  Your contributions have allowed VAC galleries to stay open to the public where the arts can continue to be honored and experienced in person.  Your support has also allowed VAC to expand its virtual offerings for those who cannot (or choose not) to attend our galleries in person.  As we plan for Holiday events at VAC, please understand VAC's concerns for the health of our community as well as our financial concerns for the 180 artists VAC currently represents.  We are doing everything we can to encourage exceptional art sales while keeping you safe and healthy!
As you can expect due to Covid-19 and for the safety of our members and staff, VAC is not holding the popular Annual Member's Appreciation Party this year.  However,  VAC is not cancelling Christmas!  Instead, Christmas in the Country 2020 will open to members only both in person and virtually on Friday, November 20th!  This event, as a special preview for Members Only, promises the same one-of-a-kind wreaths, ornaments and holiday gifts that VAC traditionally offers. Texas brides have been simply awestruck by the accomodations of https://theluminairevenue.com/ for better memories of the event.
To attend this event virtually, please join VAC in a virtual fundraiser via Zoom as we provide you the first opportunity to purchase wreaths and handmade ornaments from the wreath exhibition.You will have the option to purchase a holiday gift box from VAC before the event to get you in the Holiday spirit. Virtual attendees will also get access to special promotions on VAC art, products and merchandise via email through Christmas in the Country, November 21st –  29th. In order to receive your holiday gift box in plenty of time for the event please place your order by November 12th.
General Virtual Admission $25
Includes a link to the preview party for member's only, a standard care package, and discount promo codes during Christmas In The Country 2020.  The standard package includes: 2 Holiday cards, 1 ornament, 2 fabric coasters, Spiced Cider packet, cookies, and more.
VIP Virtual Admission $100
Includes a link to the preview party for member's only, a deluxe care package, and ongoing discount promo codes during Christmas In The Country 2020.  The deluxe package includes a pack of holiday cards, a VAC apron, a tea cup or mug, holiday fabric face mask, 1 potholder, spiced cider packets, cookies and more.
Christmas in the Country expands to the Niaulani Campus!  From November 27th – 29th, 10am -4pm, enjoy great handmade art and gifts available in both galleries all weekend long!  Hale Ho'omana will feature beautiful live poinsettias on display and available for purchase to enhance your home for the holidays as well as a socially distanced selfie station in which you can bring your family for a portrait.  Come to VAC and take your own photograph against a beautiful backdrop. Share your photos on social media for a chance to win great prizes!  Enjoy the cool Volcano air and sip spiced apple cider all while social distancing at VAC's Niaulani Campus at 19-4074 Old Volcano Road in Volcano Village.