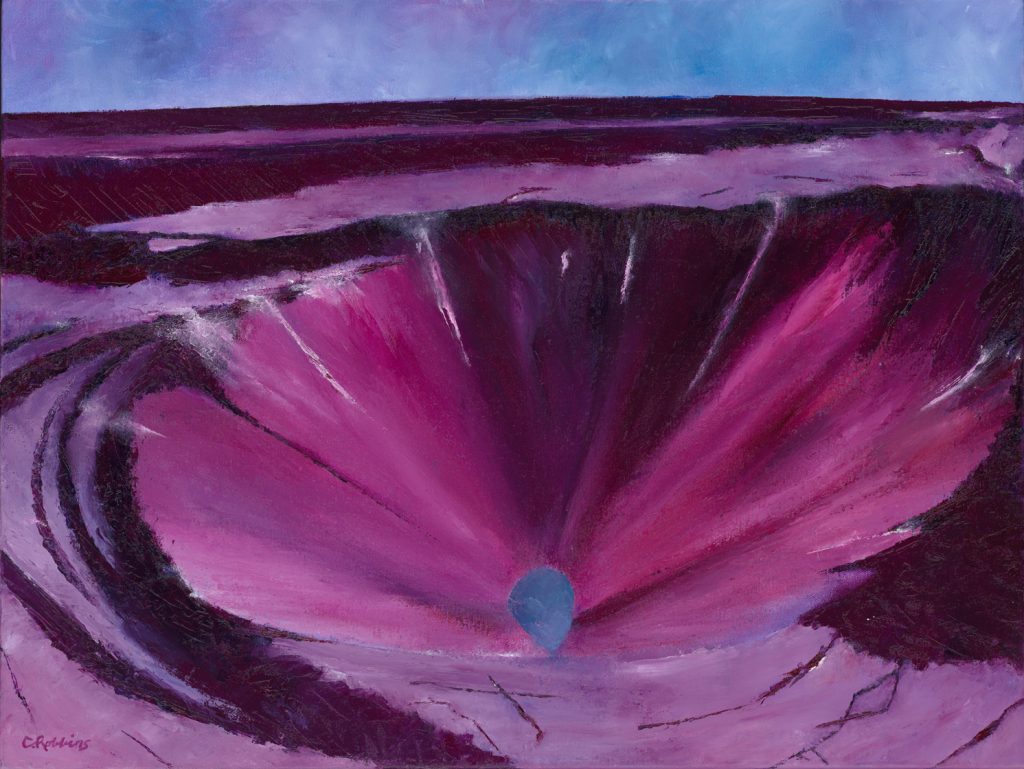 EXHIBIT: A Brush with Light – Volcanic Island Reflections
On display January 9th through February 14, 2021, 9 a.m. – 5 p.m., Wednesday – Sunday
Immerse in Hawaiʻi Island's magnificent landscapes and plants through Catherine Robbins' evocative oil paintings at her solo exhibition, A Brush with Light – Volcanic Island Reflections, at the Volcano Art Center Gallery in Hawaiʻi Volcanoes National Park. The show runs from January 9th through February 14, 2021, 9 a.m. – 5 p.m., Wednesday – Sunday.  While admission is free, park entrance fees apply.
Robbins' paintings, created with vivid color and rich texture, offer a unique perspective on the island's extraordinary landscapes, including Kilauea before and after the 2018 eruption, the high mountains of Mauna Kea and Mauna Loa, and the island's rugged coastline and exceptional plant life.
A special virtual opening reception with Robbins will occur via Zoom on Saturday, January 9th beginning at 11 a.m.  To register for the zoom link please RSVP by January 6th to gallery@volcanoartcenter.org.  A link will be emailed to you.
Robbins is a self-taught artist inspired by the wonders of nature. Raised on Northern California's fog-shrouded coast, she spent her youth hiking the Coast Range and High Sierra. As a longtime Qigong practitioner, she cultivated a quiet mind and a deep sensitivity to nature's rhythms, both of which are reflected in her oil paintings. The island of Hawai'i's windward side has been her home for four decades.
Robbins' appreciation of nature led her to become a national park eruption ranger on Kilauea's active lava flows from 2000 to 2007. During that time she shared her love and knowledge of the landscape with others, which she now does through her paintings.  Photographs and sketches she makes in the field guide her brushstrokes as paintings emerge in her rainforest studio a few miles below Kilauea's fuming summit crater.
Using brushes, palette knives and rags, she applies multiple layers of paint, blending colors directly on the canvas in a technique Robbins calls "whispering the paint."  "These fine, subtle details and highlights capture fleeting moments of light and time," said gallery Manager Emily C. Weiss.  "VAC is honored to exhibit Robbins' new body of work. Kilauea's summit area has changed dramatically and witnessing these changes through Catherine's expressive paintings is a visual delight," she said.