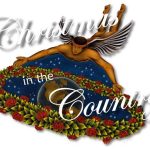 With warmest winter wishes and happiest holiday greetings, the Volcano Art Center welcomes all to the 24th Annual Christmas in the Country celebration starting Thursday, November 23rd, featuring the Annual Wreath Exhibit, which continues through December 31st. This year's Christmas in the Country promises an abundance of creativity and cheer to welcome the holiday season. VAC Gallery in Hawaiʻi Volcanoes National Park is open 9am -5pm daily (open on Thanksgiving Day, closed on Christmas Day.) VAC's Niaulani Campus is open Monday – Saturday, 10am 4pm. (closed on Thanksgiving and Christmas Day).
This fun group exhibition presents one-of-a-kind wreaths in a variety of imaginative media, techniques, and styles. This year artists may engage with the theme A Walk in the Park. Those looking for truly original wreaths as well as one-of-a-kind, handmade gift items will not be disappointed by the selection created by the local artistic community. Held at the VAC Gallery in Hawai'i Volcanoes National Park, the exhibit is free, however park entrance fees apply.
On Thanksgiving Day, VAC Gallery in Hawai'i Volcanoes National Park creates a merry scene of art and aloha inside the1877 Volcano House Hotel historic building. In addition to the exquisite artwork Volcano Art Center has become known for showcasing year-round, unique holiday offerings of island-inspired gifts, ornaments, and decorations made by Hawaiʻi Island artists can also be found.
Christmas in the Country Expands to Niaulani Campus. Come celebrate the spirit of the holidays! Also, enjoy handmade art and gifts by Hawai'i's local artists.
Enhance your home for the holidays! Beautiful live poinsettias will be on display and available for purchase at both VAC's galleries.