Sunday Clay High-fire! with Erik Wold
Afternoon Classes: 2:45pm – 5:45pm
8 week series
Sundays: October 15, 22, 29, November 5, 12, 19, December 3, 10
(No classes on November 26)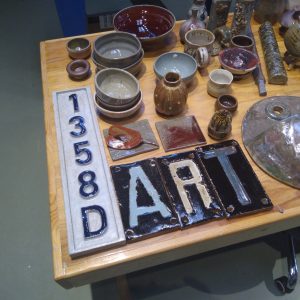 Handbuilding with clay. All skill levels are welcome. Those new to clay will be introduced to the basics of handbuilding, including pinch, coil and slab construction. Those with previous experience may pursue more independent projects. Firing schedules may vary, depending on accumulation of wares to be fired.
$200/$180 VAC members plus a $35 materials fee which includes the first 6 lbs. of clay (including glazes, firing, labor) along with a facility fee. Additional clay will be available for purchase.
Our open and well ventilated studio includes a covered outdoor work area. Open studio time will be available to registered students on most Wednesdays from 1:30 – 4:30pm. Cost is $10 per day with punch cards available at the administration office front desk during business hours. Must be registered for a ceramics class to participate.
Erik Wold studied Art, specializing in Ceramics, at the University of Hawaii at Hilo.