Poured Watercolor Floral Contrast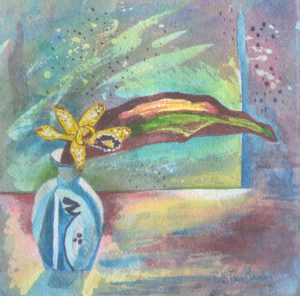 In this workshop, you'll draw, mask, pour, mask, and pour again, then detail with specific watercolor techniques of gradation, drybrush, negative painting, stencil lifting. Students create an 8 x 10" painting on cold press 140 lb. watercolor paper, by working from light to dark in 4 stages.
A still life floral photo is provided in color and gray tones to show values patterns of light, midtones, and dark. Completion of each stage will be done step by step together with the instructor.
Big Island artist and instructor Patti Pease Johnson says, "It's about being both free with yourself for the pours, which are always a surprise, then disciplined for the details of the main flower, followed by abstraction qualities to complete the background. I think the final painting is complemented by the contrasts."
This workshop will be held on Saturday, July 8, 2023, at the Volcano Art Center, Niaulani Campus. Beginner and intermediate artists welcome. Patti supplies all materials along with focused guidance and inspiration for this process along with some handy tips for your creative journey. Cost for the workshop is $75/$70 for VAC Members plus a $15 supply fee per person.  For more information or to register call VAC at 808-967-8222