When:
May 21, 2022 @ 10:00 am – 1:00 pm
2022-05-21T10:00:00-10:00
2022-05-21T13:00:00-10:00
Where:
Volcano Art Center Ni'aulani Campus
19-4074 Old Volcano Rd
Volcano, HI 96785
USA

Cost:
$55/$50 for VAC members plus a $25 fee for floral materials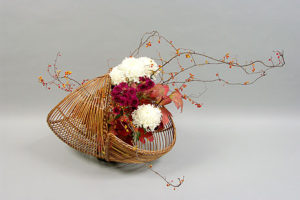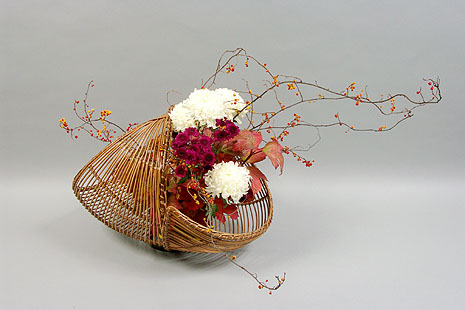 Introduction to Sogetsu Ikebana with Nancy "Sorin" Locke
Volcano Art Center is proud to offer a hands-on "Introduction to Sogetsu Ikebana" workshop with Nancy "Sorin" Locke on Saturday, May 21, 2022,  from 10 am – 1 pm at Volcano Art Center Niaulani Campus in Volcano Village. Students will have the opportunity to create their own arrangement after a detailed step-by-step demonstration by the instructor. This workshop is suitable for beginners with no prior experience and will be an excellent refresher for persons who have already taken an Introductory Ikebana Workshop with Nancy.
From this workshop, you will leave with a basic understanding of the fundamental design principles of ikebana and how it differs from Western floral design. You will be introduced to cutting and stabilizing techniques specific to ikebana, as well as the important design concepts of Line- and-Mass, and proportion.  You will also learn the basic history of ikebana and its connection to other Japanese arts and cultures.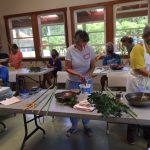 Course fees are $55/$50 VAC members plus a $25 fee for floral materials.  Comprehensive handouts will be provided. Students must bring their own container, shears, and pin frog. A detailed supply list and suggested sources is available online at www.volcanoartcenter.org. For more information and to register for the workshop, please call 808-967-8222 or visit our website.
With more than 30 years of ikebana experience, Nancy "Sorin" Locke has earned advanced teaching certificates from two schools of ikebana — Sogetsu and Wafu – giving her a strong background in contemporary design theory and technique. She holds the Somu rank in Sogetsu School of Ikebana. Combining her expertise in ikebana design with her enjoyment of horticulture and gardening, she inspires her students to create beautiful fresh arrangements and to see floral materials with "fresh eyes."  Nancy taught ikebana in the San Francisco Peninsula area for 18 years.  Her arrangements have been exhibited at the Asian Art Museum in San Francisco and many ikebana shows in the San Francisco Bay Area. She has demonstrated and exhibited at the annual bonsai exhibition at Wailoa Art Center in Hilo.  "Sorin" is her Sogetsu School of Ikebana's flower name,' which translates as 'Forever Renewed Sparkle.'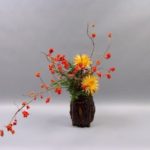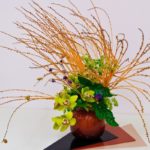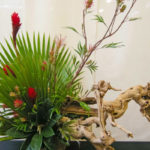 Student Supply List for Sogetsu Ikebana Workshop
CONTAINER. A FLAT-bottomed, wide opening, shallow container. The best choice is a 12"-diameter (33cm) round container called a "suiban." Available from Amazon (Search for "Classic round ikebana container." The plastic ones are a great choice; they cost $15-$19; there are several colors available). NOTE: You can substitute a 9"x13" glass baking pan.
PINFROG. A pin frog that is at least 3-1/4" diameter round. Available from Amazon (Search for "Japanese ikebana kenzan pin frog." About $25). A similar-sized rectangular pin frog is OK. Ben Franklin craft store may have pin frogs. NOTE: There is no substitute for this important ikebana supply. Please do not bring a small or plastic pin frog.
SCISSORS. Ikebana shears. Available from Amazon (Search for "Japanese ikebana shears." About $30). NOTE: You can substitute a pair of clean & SHARP hand-held garden pruners.
If you have questions about the above supplies, please send an email to instructor:nancy.locke@sbcglobal.net, or send a text message: 650 393-3680.
ALSO, BRING:
CUTTING BOWL. Used to cut stems underwater. A 16-oz sour cream container is perfect.
FLOWER "BUCKET." Any size tall pitcher, bucket, or other cylinders to hold your flowers in water until you use them.
SMALL TOWEL. For wiping spills & tools. NEWSPAPER. A few sheets to cover your work surface.