When:
December 3, 2022 @ 10:30 am – 11:30 am
2022-12-03T10:30:00-10:00
2022-12-03T11:30:00-10:00
Where:
Volcano Art Center Gallery
Crater Rim Drive
Hawaii
USA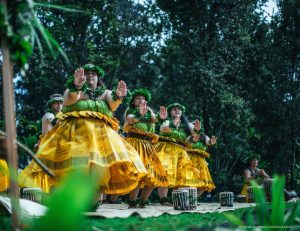 Hula Kahiko: Unuokeahi with kumu hula Stacey Kapuaikapoliopele Kaʻauʻa
Saturday, December 3, 2022 | 10:30am
Volcano Art Center's Hula Arts at Kīlauea performance series resumes on Saturday, December 3, with a presentation by Unuokeahi under the direction of kumu hula Stacey Kapuaikapoliopele Kaʻauʻa.  The performance begins at 10:30am, and takes place in Hawaiʻi Volcanoes National Park. Park entrance fees apply. 
On the winter solstice of 2016, Unuokeahi opened her doors under the tutelage of kumu hula Kapua Kaʻauʻa, affectionately known as Kumu ʻAuʻa. ʻAuʻa underwent the ʻūniki rites in December 2014, led by her kumu Dr. Taupōuri Tangarō of Unukupukupu. It is with this that she was bestowed the title of kumu hula. The Unuokeahi traditions stem from the Kanakaʻole hula ʻaihaʻa traditions in Hilo.
Hālau Unuokeahi is made up of culturally sustainable members from various communities. Students who arrived at the hālau come to learn traditional and cultural leadership through moʻolelo, ritual, and environmental sustainability. Many of the students of Unuokeahi have reached or are reaching higher academic degrees, an essential piece for the journey of the hālau.
Along with Hālau Unuokeahi comes the Unuiti Hula Ensemble program from Ka ʻUmeke Kaʻeo Charter school in Keaukaha.  Started by her kumu, Taupōuri, in the early 2000's, Kumu ʻAuʻa continues this program throughout all 11-grade levels.  Hula ʻaihaʻa, moʻolelo, and ritual are taught through the Hawaiian language medium.  It is a rigorous program, requiring students to create, and manifest their hula world in every aspect.  From making implements, gathering, fabrication, and 'āina projects, to haku hula, these core learning accouterments are required of every student.  Paired with academics, it makes it for a dynamic program.
This performance is part of a year-round series sponsored by the Volcano Art Center (VAC) which have not occurred since the pandemic.  VAC is pleased to resume the series which invites hula hālau from across Hawaiʻi to perform in a one-of-a-kind outdoor setting at the kahua hula (platform), located near the VAC Gallery in Hawaiʻi Volcanoes National Park.  Audience members are encouraged to bring sun/rain gear and sitting mats.
These family friendly, free events are currently unsponsored, if you, your 'ohana or business would like to support these wonderful programs please contact Emily Weiss at the Volcano Art Center.   The Volcano Art Center is a non-profit educational organization created in 1974 to promote, develop, and perpetuate the artistic and cultural heritage of Hawai'i's people and environment through activities in the visual, literary, and performing arts.