When:
August 12, 2023 @ 10:30 am – 11:30 am
2023-08-12T10:30:00-10:00
2023-08-12T11:30:00-10:00
Where:
Volcano Art Center Gallery
Crater Rim Drive
Hawaii
USA

Hula Kahiko: Featuring Kumu hula Moses Kahoʻokele Crabbe with hālau Halauolaokalani on August 12, 2023.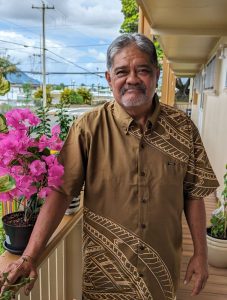 Volcano Art Center's Hula Arts at Kīlauea performance series continues on Saturday, August 12th, featuring Kumu Hula Kahoʻokele Crabbe and hālau Halauokalani.
The performance is part of a year-round series sponsored by the Volcano Art Center.  For the series, hula hālau from across Hawai'i are invited to perform each month.  The performance begins at 10:30am at the kahua hula (platform) in the Hawaiʻi Volcanoes National Park.
After graduating in 1995 at Puʻupueokapu, Waikane, Oʻahu with traditional ʻuniki ceremonies under his teacher kumu hula Robert Cazimero, kumu hula Moses Kahoʻokele Crabbe founded Halauolaokalani in 1999.
The hālau's performance this year will honor Auntie Dutchie Kapu Saffery who was the spiritual "mother" of the halau and to many in the community. She was a graduate of Maiki Aiu Lake of Hālau Hula o Maiki and an 'olapa of Papa Lehua who passed in February of this year. The hālau will present traditional mele kahiko as taught to Kumu Crabbe by his kumu, Robert Uluwehi Cazimero of Halau Na Kamalei. Special guest soloist Cathy Liliaokalani Kasparovitch Arnold will also perform.
Halauolaokalani is a branch of the hula family of Auntie Maiki Aiu Lake who was the teacher of Kumu Crabbe's teacher, Robert Uluwehi Cazimero.
The hula performance is presented authentically in an outdoor setting, rain or shine without electronic amplification. Audience members are encouraged bring sun/rain gear and sitting mats, and to arrive early as parking at the Visitor's Center is limited, additional parking is available at the Steam Vents parking lot.
These free events are supported by donations from member's of the Volcano Art Center.  Donations are welcome to continue future programs. The Volcano Art Center is a non-profit educational organization created in 1974 to promote, develop, and perpetuate the artistic and cultural heritage of Hawai'i's people and environment through activities in the visual, literary, and performing arts.