When:
September 24, 2022 @ 9:00 am – November 6, 2022 @ 5:00 pm
2022-09-24T09:00:00-10:00
2022-11-06T17:00:00-10:00
Where:
Volcano Art Center Gallery
Hawaiʻi Volcanoes National Park
Hawaii Volcanoes National Park, HI 96718
USA

Cost:
Free event although park entrance fees apply.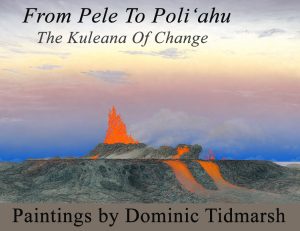 The Volcano Art Center (VAC) is proud to announce a new exhibition titled From Pele To Poli'ahu. The Kuleana Of Change at the VAC gallery in Hawai'i Volcanoes National Park from September 24th to November 6th, 2022. The exhibit presents new original artworks by Waimea-based artist Dominic Tidmarsh.  While the exhibit is free, park entrance fees apply.
The works of art featured are inspired by the life-changing experiences of living through the eruption of Kilauea in 2018, and his subsequent relocation to Waimea. Tidmarsh compares and contrasts the lands of Pele and Poli'ahu and presents the work as an expression of the responsibility we all bear to embrace the inevitability of change in our lives.  As an expression of this Kuleana, Tidmarsh chose to work extensively in media that he had never used before and to explore and develop new methods of working.
The main body of work consists of a series of landscape paintings intricately rendered in soft pastels, a medium not traditionally associated with either precision or detail. In addition, a series of miniatures of Mauna Kea executed in colored pencil stand in vivid contrast to dramatic large-scale watercolor paintings inspired by the eruption of 2018.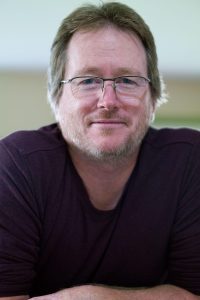 Dominic Tidmarsh was born in 1964 in Trinidad, West Indies.  He was educated in the United Kingdom and also lived in Indonesia before moving to the United States in 1981.  In 1982 he attended the Maine Photographic Workshops followed by the Corcoran School of Art in Washington DC where he earned a BFA in Photography in 1988. Dominic moved to the Big Island of Hawai'i in 1996.  A self-taught painter, he has participated in numerous solo and group shows in Hawai'i. Recent awards include two Purchase Recognition Awards from the Hawai'i State Foundation on Culture and the Arts and back-to-back Juror's Choice Awards in the Hawai'i Nei 2015 and 2016 art contests. His 3D topographic work can also be seen at the Hawai'i Volcanoes National Park visitor center.
Known for his rich sense of color and meticulous attention to detail, Dominic's work reflects an interdisciplinary approach to creating art. Inspired above all by the natural landscapes of Hawai'i he also draws inspiration from a variety of other fields such as Volcanology, Astronomy, Archaeo-Astronomy and Ornithology.