When:
June 22, 2019 @ 9:00 am – August 4, 2019 @ 5:00 pm
2019-06-22T09:00:00-10:00
2019-08-04T17:00:00-10:00
Where:
Volcano Art Center Gallery
Hawaii Volcanoes National Park
Cost:
Free, although park entrance fees apply.
Volcano Art Center Gallery is honored to present a unique collection of original paintings by Linda J. Varez in an exhibition titled "The Joy Of The Brush."  The exhibit will open to the public on Saturday, June 22nd and will continue through Sunday, August 4th, 2019 at Volcano Art Center Gallery in Hawai`i Volcanoes National Park.  A special reception with the artist will be held on Saturday, June 22nd from 2-4pm.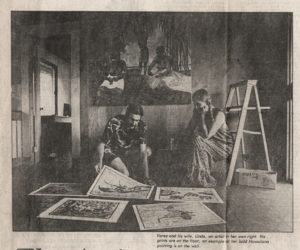 Linda J. Varez was born in San Luis Obispo, California and graduated from Cal Poly (California Polytechnic State University) with a degree in agriculture.  Soon after graduation, Linda moved to Ventura, CA. where she was surrounded by professional artists showing their works in Los Angeles.  She began attending evening art classes at Ventura College and credits Art Student League teacher Barney Dietz with "excellent art instruction and guidance."
Linda came to Hawai'i in 1960 to surf in the annual surfing competition held at Makaha on the west side of Oahu, known then as the unofficial world surf championship.  She placed sixth in the women's division.  Soon after that she began working at Maui Divers, carving coral rings and eventually began designing jewelry.  In 1965 she met her soon to be husband, Dietrich Varez, now one of Hawai'i's most recognized artists, best known for his extensive collection of linoleum-block and screen printed images.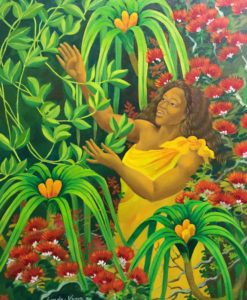 After their marriage the young couple had one son and began to desire the peace and tranquility of the natural environment over the hustle and bustle of Honolulu.  In 1969 they purchased the largest, secluded lot they could afford on Hawai'i Island, sight-unseen.  The only known detail at the time was that the three acre plot was forested by flowering ohia trees.  "That was enough for us," states Linda.  The remote rain forest setting became the inspiration for both artists' works for decades to follow.  As Dietrich's block prints and paintings gained in popularity Linda become his biggest supporter and consultant. Dietrich Varez passed away last year, Linda continues to paint.
"This special exhibition will display both older and new original paintings by Linda Varez,"states gallery manager Emily C. Weiss.  "Although not as well-known as her famous husband's work, Linda's painting are just as delightful."  The collection includes oil paintings created between 1980-1996 and more recent original watercolor images. The Volcano Art Center invites all to come experience the lesser known artworks of Linda J. Varez.  The exhibition and reception are both free to attend; however, park entrance fees apply.  The VAC staff would like to note the opening reception time is from 2-4pm which varies from traditional evening reception times.  Please don't miss this special event.