When:
May 22, 2021 @ 9:00 am – June 27, 2021 @ 5:00 pm
2021-05-22T09:00:00-10:00
2021-06-27T17:00:00-10:00
Where:
Volcano Art Center Gallery
Hawaiʻi Volcanoes National Park
Hawaii Volcanoes National Park, HI 96718
USA

Cost:
Free event although park entrance fees apply.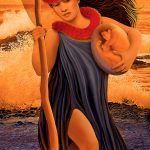 EXHIBIT: Na Makana: an exhibition of digital and ceramic art by Nelson and Kainoa Makua
The Volcano Art Center is proud to present Nā Makana, a mixed media exhibition featuring the artwork of Nelson and Kainoa Makua from May 22 – June 27, 2021. This father and son duo may be best recognized as the brand Nā Makua Original Hawaiian Designs, a casual clothing line they established in 1999. However, this exhibition highlights the fine artwork created by this talented family. Nelson will be displaying digital paintings while Kainoa will exhibit ceramic work. Both artists incorporating contemporary graphic design with traditional Hawaiian motif in their art work. The exhibition will be on display daily from 9am – 5pm at the Volcano Art Center Gallery in Hawaiʻi Volcanoes National Park under social distancing and mask wearing protocol. While admission is free, park entrance fees apply. The exhibit can also be viewed virtually at volcanoartcenter.org.
Nelson Makua has been an artist and designer on the Big Island for over 40 years. Born and raised in Kailua, Oahu, he and his 'ohana moved to the Big Island in 1975, where they reside in Puna, the original home of the Makua ohana. "My ancestors were part of the migration from Tahiti to Hawaiʻi who settled in Kalapana in the district of Puna. For me, moving to the Big Island was like coming home."
Nelson is well known as a graphic designer throughout Hawai'i, Japan and the US mainland. He is a two time Na Hoku Hanohano award winner for graphic design. He is the only artist to have created 8 years of Merrie Monarch Festival posters with his limited edition "Pele" series. His first 2003 poster is now a collectors item and his 2008 Merrie Monarch poster received the prestigious Pele Award for best illustration by the Hawaiʻi Advertising Federation. In 2016, Nelson was honored as a MAMo Awardee in recognition of his artistic contribution as a Native Hawaiian artist.
Nelson began his artistic journey honing his skills in drawing, painting and photography using traditional methods. Then 30 years ago he discovered the digital world which is how he now exclusively creates his art. "The digital age has opened up a whole new world of creating for the artist, with endless possibilities." Blending his artistic skills of traditional and digital allows Nelson to explore new ways to interpret his art. Nelson does not concern himself with a "style" to his art but loves exploring many different styles that best interprets his vision for that individual piece. "Guided by my küpuna before me and influenced by my own life experiences, I view myself as a Hawaiian artist who is living in my own time, creating images that reflect that time and place."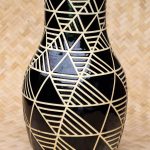 Kainoa Makua grew up in the Puna district of the Island of Hawai'i. He is a graduate of Kamehameha Schools and earned his B.A. in fine arts from UH-Hilo. It was while he was at Kamehameha Schools, after exploring various art mediums, that he discovered his passion for ceramics. This continued throughout his college years at UH- Hilo under the guidance of Professor Gordon Lee.
It is in the medium of the 'aina that he is able to express himself. His pieces can be functional as a platter or a pot, but they are uniquely his and express a Hawaiian point of view. Kainoa's ceramic pieces have been featured at the Bishop Museum, Viewpoints Gallery on Maui and in art exhibitions throughout the state. Kainoa's clay creations reflect the duality of the modern Hawaiian artist and traditional values of kanaka maoli.
Kainoa grew up working with his father in his graphic design business. This prepared him well for his role as a designer and co-owner of Nā Mākua Original Hawaiian
Designs which focuses on their Hawaiian heritage. Nelson shares that "Nā Mākua gives us another artistic medium and a visual voice to express our cultural views as native Hawaiians through our images." Their designs are bold, personal and very distinctive. "Our images often create strong emotional feelings in Hawaiians and we are often told how proud our designs make them feel," states Kainoa. Together Nelson and Kainoa also produce various Big Island events such as the annual MANA Invitational Art Show, The Merrie Monarch Invitational Hawaiian Arts Fair and the Nā Makua Christmas Gift fair.
View the exhibition virtually here.
For more information about the exhibition or artists visit www.volcanoartcenter.org or contact VAC Gallery Manager, Emily C. Weiss at (808) 967-8222 or gallery@volcanoartcenter.org.
Volcano Art Center is a 501(c)3 nonprofit organization created in 1974 whose mission is to promote, develop and perpetuate the artistic, cultural and environmental heritage of Hawaii through the arts and education.