When:
September 19, 2020 @ 9:00 am – November 1, 2020 @ 4:00 pm
2020-09-19T09:00:00-10:00
2020-11-01T16:00:00-10:00
Where:
Volcano Art Center Gallery
Hawaii Volcanoes National Park
Cost:
Free, although park entrance fees may apply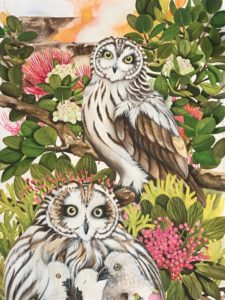 EXHIBIT: Hawai'i's Treasures by Marian Berger 
Volcano Art Center (VAC) Gallery is proud to announce the return of Marian Berger's watercolor paintings in the upcoming exhibition titled Hawai'i's Treasures.  The exhibit features dramatic watercolors with subjects stretching from Hawai'i's oceans to its mountains. While Marian is well known for her native Hawaiian bird portraits this exhibition also includes paintings depicting unique aquatic scenes presented with the same exceptional vibrancy and detail for which Marian is so well known. This is an exhibit not to miss!  Hawai'i's Treasures will be on display at the Volcano Art Center Gallery in Hawai'i Volcanoes National Park, from September 19th – November 1st, 9am to 4 pm, Thursday – Sunday.  The exhibition is free to the public although park entrance fees apply. Please note VAC gallery is currently closed Monday – Wednesday.
Known as a naturalist artist, Marian Berger has received numerous awards and commissions for her art.  Marian has recieved top honors for her entries in several Hawaii Nei shows and and multiple commissions including Bishop Museum Natural History calendars and a series of Audubon style paintings of Hawaii's Living Endemic Birds, completed in 2011.  This is Marian's fouth solo exhibition at the Volcano Art Center Gallery.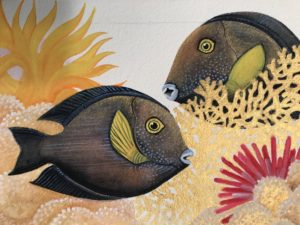 The daughter of a meteorologist, Berger spent her early childhood on Wake Island and in Alaska where she acquired her father's love of science and her mother's artistic abilities, along with their mutual love of the outdoors.  "I assumed that art was a natural part of life, a way that everyone expressed themselves," Berger notes.
Marian Berger earned a B.S in Wildlife Management from Humboldt State University, where she also took courses in representational drawing.  Marian moved to the Big Island in 1976 and soon after had her first one-woman show at VAC.  In 1987, she created a series of paintings of Hawai'i's endangered birds and plants for the Aston Kaua'i Resort.  An edition of 2000 prints was published, and proceeds from the sales were given to the Hawai'i Nature Conservancy.  In 1988, she painted a number of watercolors presented to U.S. Senator Daniel Inouye and U.S. Representative Daniel Akaka for their contributions in preserving Hawai'i's native wildlife.  In 2009 and 2010 she won top honors for her entries in the Hawaiʻi Nei shows.  In 2006 she was commissioned to do a series of Audubon style paintings titled Living Endemic Birds of Hawai'i which she completed in 2011.  Following the success of that exhibition both in Hawai'i and on the U.S. mainland, and the awareness and financial support the effort provided to Hawai'i's endangered bird recovery programs, Berger began a follow up project to continue the momentum. The Up Close collection, then took Marian more than three years to complete with a significant percentage of the sales supporting the endangered bird recovery programs on Hawai'i Island.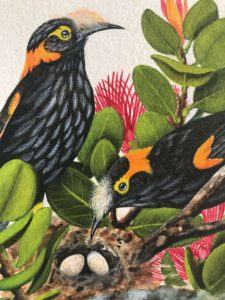 The Hawai'i's Treasures exhibition can be viewed in person at the VAC gallery which is currently following all CDC guidelines and social distancing protocol. Be prepared to wear a mask and keep a safe 6 ft. distance from others within the gallery. Additionally, VAC gallery is maintaining a max. occupancy of 10 people within the gallery at one time (you may be asked to wait outside if the gallery is full), hand sanitizer at the entrance, and regular cleaning of highly touched surfaces by VAC staff and volunteers. Due to Covid-19 precautions VAC will not hold an opening reception.  For those that prefer to view the exhibition virtually, please click here!