When:
July 15, 2023 @ 9:00 am – August 20, 2023 @ 5:00 pm
2023-07-15T09:00:00-10:00
2023-08-20T17:00:00-10:00
Where:
Volcano Art Center Gallery
Hawaiʻi Volcanoes National Park
Hawaii Volcanoes National Park, HI 96718
USA

Cost:
Free event although park entrance fees apply.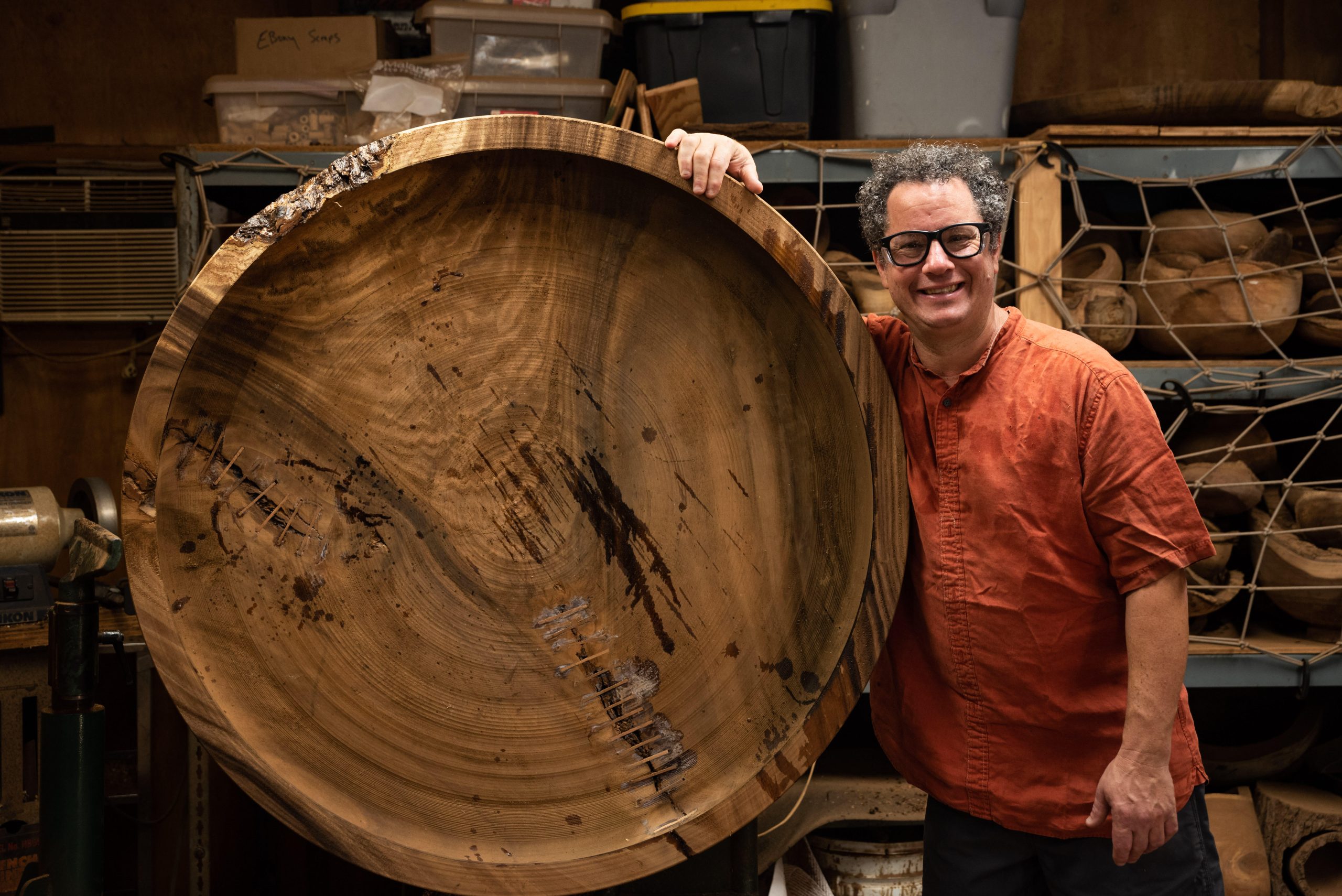 Wondrous Works In Wood by Aaron Hammer at VAC
Volcano Art Center is proud to announce the exhibition Wondrous Works In Wood by Aaron Hammer.  The exhibit featuring lathe-turned works of art opens July 15th and will continue through August 20th, 2023.  The gallery is open daily, 9am -5pm in Hawai`i Volcanoes National Park.  A reception with the artist will take place on the opening day, Saturday, July 15th from 2-4pm.  While the exhibit is free to attend, park entrances fees apply.
The solo exhibition showcases a collection of newly-finished turned woodwork made from trees that were grown in Hawai'i. The works include natural-edged bark lipped bowls, traditional calabash shaped bowls, and large-scale platters. The scale of the pieces range in size from 8″ to 36″ in diameter. Aaron chooses to use previously-fallen Hawaiʻi grown trees in an effort to protect Hawaiʻi's  cherished forest resources. He states, " In the pieces I create, I attempt to honor these sacred trees by creating heirloom-quality work that is loved by families for generations. The fallen trees or urban-salvaged trees that I work with are often full of flaws, imperfections and defects. I endeavor to embrace these challenges and turn these flaws into unique features."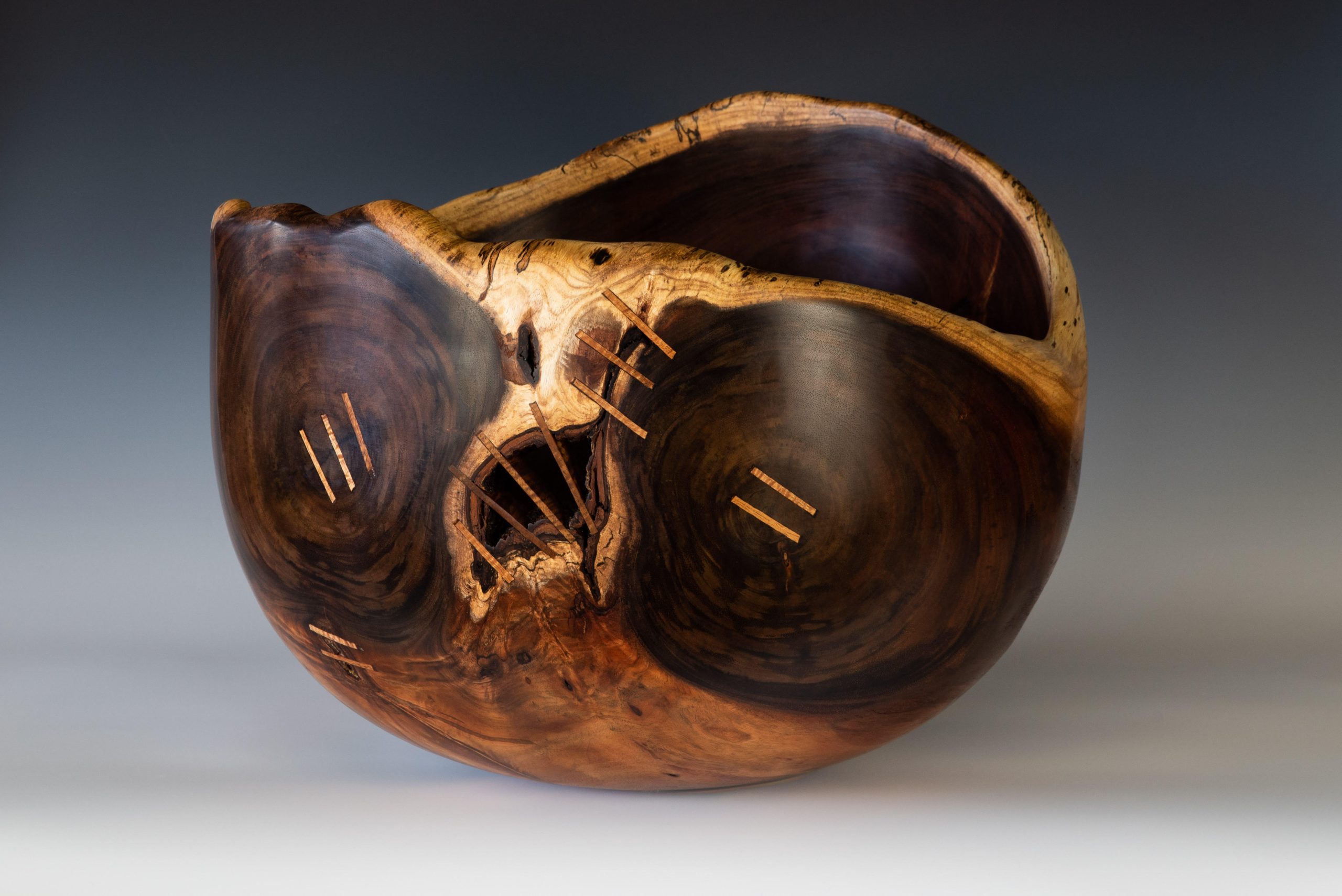 Originally from Kansas City, craftsman Aaron Hammer traveled extensively after high school to destinations including Israel, India, and Nepal and then made the island of Oʻahu his home in 1993.  Aaron was mentored by master wood turners Jerry Kermode and Ron Kent and began operating his own professional wood turning studio in 2000.  He now produces a full line of HammerCraft, lathe-turned art and gift items from his studio in Papaikou since 2014.
In addition to running his business Aaron has served on the Board of Directors of The Pacific Handcrafters Guild holding the titles of  Vice President and President. He is active now on the Board of Directors for the Hawai'i Forest Industry Association and in the local Hawai'i art and wood shows, winning awards at the HFIA wood shows of 2011 and 2022. Aaron also loves teaching and has offered wood turning classes locally in Laupahoehoe.  As an instructor he has been invited to teach wood turning workshops at Pratt Art Center in Seattle WA. and was recently invited to teach a third workshop at the world famous Arrowmont School of Arts and Crafts in Gatlinburg, Tennessee.
To share his love of woodturning Aaron has scheduled a woodturning demonstration to take place from 11am -2pm on July 29th at the Volcano Art Center Gallery in Hawai'i Volcanoes National Park. The demonstration will allow viewers to witness live woodturning on a lathe. Aaron states that while working on the lathe "one must work from the center both physically and spiritually…starting with a raw log and transforming it into a finely finished and cherished object is the joy of my creation."
Please visit
www.volcanoartcenter.org
for more information, or call VAC Gallery at (808) 967-7565.  Volcano Art Center is a 501(c) 3 nonprofit organization created in 1974 whose mission is to promote, develop and perpetuate the artistic, cultural and environmental heritage of Hawaiʻi through arts and education.