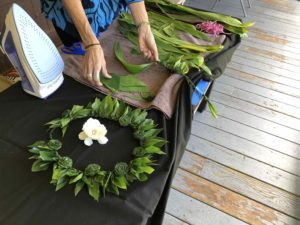 Cultural Understanding Through Art & the Environment: Ti Leaf Lei Making with Jelena Clay
Third Tuesdays | 11am – 1pm
Learn the art of Ti Leaf Lei making in this fun, hands-on workshop which meets the third Tuesday of each month from 11am – 1pm at Volcano Art Centerʻs Niaulani Campus in Volcano Village.
Skills will be taught for each student to learn the basics needed to make a lei kupeʻe.  Those who grasp the concept and skills can advance to make a basic ti rope, to twist a ti leaf rose and how to add ti leaf inserts to create full leafy beautiful lei! 
A ti leaf lei is appropriate for any and all occasions and is traditionally believed to bring good luck. This lei is a thoughtful way to send off a loved one going on a journey, beginning a new career or other life change. A ti leaf lei symbolizes admiration, appreciation, and respect and is often used as a gift for weddings, graduations, anniversaries and memorials.
The class fee is $10 per student. Due to social distancing measures, class size will be limited to 6, and pre-registration by Friday, June 12 is required.  Please register by calling (808)967-8222 or visit www.volcanoartcenter.org.  Volcano Art Center Niaulani Campus is located at 19-4074 Old Volcano Road in Volcano Village.
These visual art programs are supported in part by a grant from the County of Hawai'i Office of Research and Development. Please contact 967-8222 for more information.
This workshop is FULL! Please contact VAC to be placed on a Wait List.