Colorfast Botanical Dyes to Paint, Stamp, & Stencil with Puakea Forester,
Saturday, October 1, 2022, from 9am – 5pm.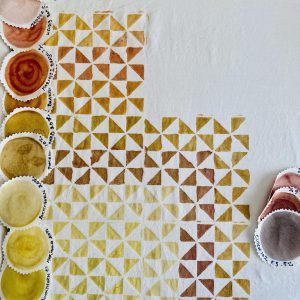 You will start by going over best practices when approaching natural colorants by learning how to prepare cellulose and protein fibers for optimal uptake of dyes via scouring, tannin, and immersion mordanting. Gain solid replicable results creating thickened dyes for a colorful palette from ethically sourced tried and true extracts, grounds, and raw material, This is accomplished by documenting your experiments of hue variations on the percentage of dyestuff to WOF (weight of fabric), adding PH modifiers, color mixing, color layering.
This class will teach you how to design and carve repeat patterns for stamps, layering, freehand painting, masking, and stenciling for direct application techniques. As a reference tool for future projects, you will mix and build your palette on a well-recorded color wheel or grid-swatched wall hanging. To finish your pieces, you will permanently fix the colors to the cloth by steaming.
Class fee: $130/$125 VAC members, plus a $110 supply fee. To register call (808) 967-8222.
OR