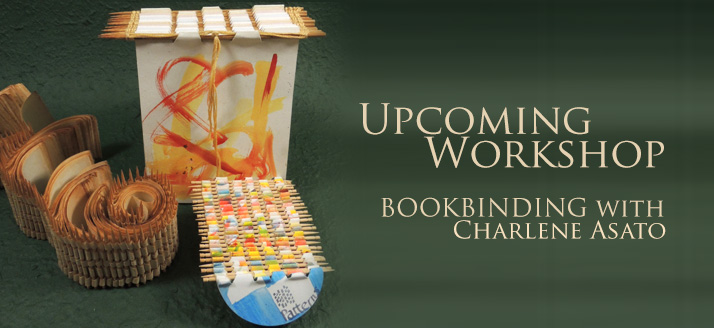 Join instructor Charlene Asato on Saturday, October 29, 2016, from 9am – 12pm for "The Piano Hinge, Unhinged" bookbinding workshop. Cost is $35/$32 VAC Members plus a $10 materials fee. Prior bookbinding experience is not necessary.
The prized grand piano is known for its stunning acoustics but have you ever noticed its lid hinge? The long hinge was designed for a piano because it combines strength with good looks. Now you can learn a bookbinding technique inspired by the piano hinge.
The mysteries of the piano hinge book will be dispelled in this workshop. Utilizing paper and rods, this structure can be highly sculptural and textural. Piano hinge books are nice to look at and feel in your hands because they move differently than a regular book. You'll be entranced by the possibilities of this binding, devised by Hedi Kyle, who is well known for her unconventional book structures.
Asato avidly pursues book arts, paper arts, photography, calligraphy and doll arts. Her books have been in many juried shows, locally, nationally and internationally and some have won awards. She finds it very exciting that a simple fold changes a two-dimensional plane into a three-dimensional form. These artist books provide a wonderful avenue to convey this energy. She enjoys imparting this excitement to others through workshops.
Tools to bring: cutting mat or dense cardboard, Xacto knife with new #11 blade or similar tool, metal-edged ruler, bone folder or non-serrated butter knife, pencil, eraser, glue stick, scissors, discarded catalog or magazine for gluing surface.
Optional: scoring board (very helpful), portable paper trimmer, quilter's rule, paper punches, rubber stamps. Any art supplies such as colored pencils, crayons, markers, watercolor, photographs for collaging, scraps of decorative paper, etc.
For more information or to register call VAC at 808-967-8222 or