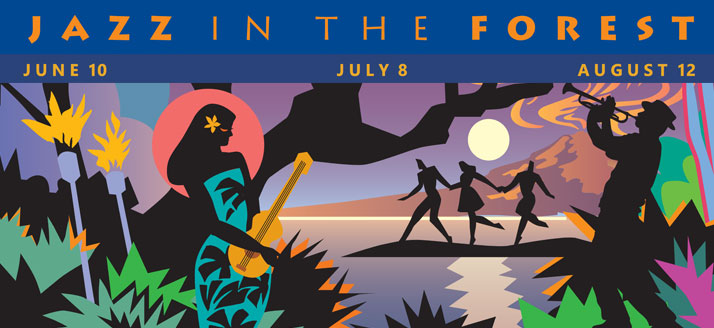 The 2017 Jazz in the Forest summer series continues with two performances (4:30pm & 7:00pm) on Saturday, August 12 with "The Odyssey of Saxy Jazz!" 
The evening will take you though the evolution of the American jazz saxophone from the beginning of the 1900's in New Orleans, through the roaring Dixieland times of jazz, and up the river to Chicago with exciting stops along the way to Kansas City. "The Odyssey of Saxy Jazz" also highlights some beautiful diversions as America opened up on the East and West coasts with the creation of many styles and personalities.
Sax soloists such as Sidney Bechet, Frank Trumbauer, Coleman Hawkins, Ben Webster, Lester Young, Charlie Parker, Cannonball Adderley, Stan Getz, John Coltrane, and Ornette Coleman, and many others have contributed to the exciting path of jazz in big bands as well as small musical combos, as society changed and audiences kept on dancing to different beats.
Saxman Jean Pierre Thoma and the Jazztones will present the highlights of this Odyssey with Fred Hee on guitar, Jerry Dicey on bass and Noa Eads on drums.
Please come and join the adventure of this odyssey!
The Wine and Beer Room will be open for attendees to enjoy before and after the concert. And as usual, an area has been set aside for dancing, so you don't have to stay in your seat when the band starts to swing and you're moved to your feet.
Two shows will be offered, with a matinee at 4:30pm and an evening performance at 7:00pm. Tickets for the matinee show are $18 for VAC members ($20 non-members)! Ticket holders will be able to purchase Volcano Red Ale and Mauna Kea Pale Ale from Mehana Brewing Company & as well as wine before each performance. Great pupus by ʻŌhelo Café will also be available for purchase.
For more information or to register call Volcano Art Center at 808-967-8222
or

More about Jean Pierre Thoma 
Jean Pierre Thoma is a world traveled professional musician on flute, saxophone clarinet and piano, with experience throughout America, France, Japan, India, and Israel. Holds 2 masters degrees in music, and has been a public and private school teacher as well as member of numerous jazz and classical ensembles, such as the Maui and Marin Symphonies.
Leader of "The Jazztones" : "Raga Jazz" (with Sarangi, synth guitar & bass): member of "Royal Kona Harp Ensemble" (3 harps w/ 2 flutes & winds): "Volcano Trio" (2 flutes & piano): performer at Holy Cross Church in choir & as instrumentalist; and pianist at restaurants, and charity performances at Hospice and Life Care Centers. Now a music teacher in Hilo at The Pacific Academy of Music, and the Kukuau Studio, he happily lives in Hilo Hawaii.