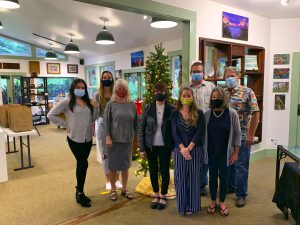 The Volcano Art Center's COVID-19 protocols are as follows and will be updated as needed by the VAC Board of Directors and VAC Officals.  Please re-visit this page for updates on VAC's COVID-19 updates.
     DATE: December 20th, 2021
All VAC staff, teachers, performers, participants and volunteers must provide proof of vaccination, or pass a COVID-19 test within 3 days prior to being at a VAC function. Proof of vaccination or

 

negative results from a valid COVID-19 test must be provided to the front desk or to a VAC employee at VAC's Niaulani Campus or event venue.
Personal information collected will be an individual's name, verification of a COVID-19 vaccination, or negative results from a COVID-19 test. The date of submission of this information will be noted.

 

VAC and its volunteers will not make copies of COVID vaccination cards or of COVID tests.
VAC will keep copies of staff COVID tests or COVID vaccination cards as requested by federal regulations.
Contact tracing forms will only be provided to State or County of Hawaii contact tracing and health officials at their request. A single person may sign in to represent a family or small group.

 

Masks must be worn at all VAC facilities. Masks may be lowered/adjusted for consumption of food or drink.
Social distancing for seated events is 3 feet
VAC's Niaulani Campus follows the State of Hawaii's COVID requirements as it is located on DLNR (State of Hawaii) property.
VAC's Gallery in Hawaii Volcanoes National Park complies with Department of Interior (Federal) COVID requirements.
Downloads: (Right-hand click on link to download)
Proof of COVID-19 Test or Vaccination Form
Proof of COVID-19 Test or Vaccination Form STAFF & ADMIN
COVID Officials At VAC:
Mike Nelson, Emily Catey-Weiss, Judy Stapes, Andrew Simon