Volcano Art Center's 2019 Exhibition Schedule 
September 21st – November 3rd, 2019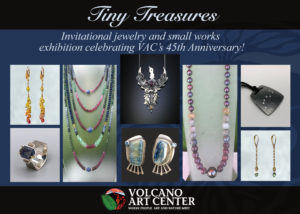 Tiny Treasures Invitational Exhibition
Location: Volcano Art Center Gallery in Hawai'i Volcanoes National Park
The Volcano Art Center (VAC) proudly announces the return of the Tiny Treasures Invitational Exhibition to its gallery in Hawai'i Volcanoes National Park from September 21st through November 3rd, 2019.  The multi-media, group exhibition will be open to the public from 9am to 5pm daily with an opening reception on September 21st from 5-7pm. While the exhibit is free, park entrance fees do apply.
This year's exhibition will also celebrate VAC's 45 anniversary, officially incorporated on October 21st, 1974.  Invited jewelry artists including Daniel Rokovitz, Stone O'Daughery, Kristin Mitsu Shiga, Pat Pearlman, and Amy Flanders who will present their unique, hand crafted designs, some embellished with sapphires to help celebrate this milestone event. Their works will be highlighted against wood designs of Karen and Mark Stebbins of Big Island Engraving.
Also on display are small works from the annual Volcano Art Collaboration which took place in June at VAC's Niaulani Campus.  That event was attended by nine participating artists including Rose Adare, Nash Adams-Pruitt, Lisa Louise Adams, Ed Clapp, Amy Flanders, Bill Hamilton, Liz Miller, Joe Laceby and Erik Wold.  In the spirit of the collaborations event, the artists created multiple unique mixed media pieces incorporating wood, glass, metals and ceramics.
Please visit this unique collection of small works of art and help VAC celebrate its many years of providing art and culture to our community. The Volcano Art Center is a 501(c) 3 nonprofit organization created in 1974 whose mission is to promote, develop and perpetuate the artistic, cultural and environmental heritage of Hawai`i through arts and education.
---
November 22nd – December 31st, 2019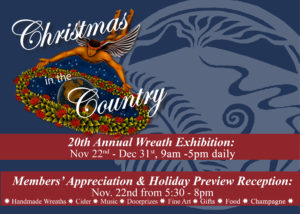 Christmas in the Country, featuring the Annual Wreath Exhibition
Location: Volcano Art Center Gallery in Hawai'i Volcanoes National Park
With warmest winter wishes and happiest holiday greetings, the Volcano Art Center welcomes the public to the 20th Annual Christmas in the Country celebration starting Friday, November 22nd, 2019.  Featuring the Annual Invitational Wreath Exhibit which continues through December 31stthis year's Christmas in the Country promises an abundance of creativity to welcome the holiday season.
The Friday before Thanksgiving, VAC Gallery in Hawai'i Volcanoes National Park creates a merry scene of art and aloha inside its 1877 historic building. In addition to the exquisite artwork Volcano Art Center has become known for showcasing year-round, you'll find unique holiday offerings of island-inspired gifts, ornaments and decorations made by Hawai`i Island artists, including some that are VAC exclusives.
The concurrent Annual Invitational Wreath Exhibit presents one-of-a-kind wreaths in a variety of imaginative media, techniques and styles, from the whimsical to the traditional. Those looking for truly original wreaths as well as one-of- a-kind, handmade gift items will not be disappointed by the selection created by the local artistic community.
As in years past, Christmas in the Country begins with an exclusive members-only preview party on Friday, November 22nd at 5:30pm and features a full lineup of artists hosting special events throughout two full weekends.  Special events can be found in both VAC locations.   The gallery in Hawaiʻi Volcanoes National Park is open 9am to 5pm daily, the Niaulani Campus in Volcano Village is typically open from 9am to 5pm Monday – Friday and for special events, classes and workshops. While the exhibitions are free to the public park entrance fees apply.  Contact (808) 967-7565 for more information.
---
Volcano Art Center's 2020 Exhibition Schedule 
Please check back as details are added to the Volcano Art Center's 2020 Exhibition Calander.
January 11– February 16, 2020 –  Aaron Hammer and Mark Stebbins  – Turned Wood
February 22 – March 29, 2020 – Emily Herb – Pottery
April 04 – May 10, 2020 – Kaeo Izon – Lauhala
May 16 – June 2020 – Marian Berger – Watercolor
June 27 – August 02, 202 – Nelson Makua and Kainoa Makua – Prints and Pottery
August 08 – September 13, 202 – Hawai`i Ne`i Invitational
September 19 – November 01, 2020 – Catherine Robbins – Oil Painting
November 20 – December 31, 2020 – Christmas in the Country