Volcano Art Center's 2020 Exhibition Schedule 
January 11th – February 16th, 2020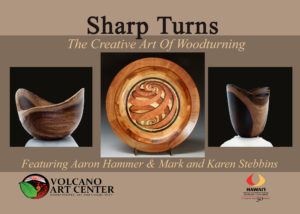 Sharp Turns
Location: Volcano Art Center Gallery in Hawai'i Volcanoes National Park
Volcano Art Center is proud to announce the exhibition Sharp Turns: The Creative Art of Woodturning featuring the fine art of Aaron Hammer and Mark and Karen Stebbins. The exhibit will open to the public January 11th and will continue through February 16th, 2020 from 9am -5pm daily at the Volcano Art Center Gallery in Hawai`i Volcanoes National Park, park entrance fees apply. An opening reception with the artists will take place on Saturday, January 11th from 5-7pm.
"The exhibition Sharp Turns represents a small sampling of the extremely talented wood turners of Hawai'i Island", states Gallery Manager Emily Weiss. "Living close to their source of native hardwoods, what often begins as a hobby turns into a life time pursuit for many woodworkers.." This has been the case of Aaron Hammer who began his woodworking career as an apprentice in 1995, under the direction of master wood turner Jerry Kermode. Venturing off onto his own in 2000 he established his HammerCraft line of lathe-turned artistic and functional wooden bowls, drums, jewelry and gift items all made from previously felled Hawaiian trees. Helping to preserve and protect precious forest resources is a passion of Hammer's as well as working on the lathe. Aaron states that while working on the lathe "one must work from the center both physically and spiritually…starting with a raw log and transforming it into a finely finished and cherished object is the joy of my creation."
The exhibition also features beautiful creations by Mark and Karen Stebbins who together own and operate Stebbins Studios, LLC. which showcases the fine woodworking, craftsmanship and artistic achievements of this husband and wife team. For over 15 years they together have created superior quality, hand crafted wood turnings and furniture as well as elegant gifts items and other artistic works for clients around the world. Located in East Hawaiʻi the Stebbins also offer custom engraving through their business Big Island Engraving.
Two very special woodturning demonstrations will take place on the Volcano Art Center Gallery porch during the exhibit allowing viewers to witness live woodturning on a lathe. Aaron Hammer will demonstrate on January 25th and Mark and Karen Stebbins will demonstrate on February 1st. Both demonstrations take place from 11am -2pm at the Volcano Art Center Gallery in Hawai'i Volcanoes National Park.
This exhibit is supported by the State Foundation on Culture and the Arts, through appropriations from the Legislature of the State of Hawaii or grants from the National Endowment for the Arts in cooperation with The Volcano Art Center. Volcano Art Center is a 501(c) 3 nonprofit organization created in 1974 whose mission is to promote, develop and perpetuate the artistic, cultural and environmental heritage of Hawaii through arts and education. Please visit www.volcanoartcenter.org for more information.
---
Please check back as more details are added to the
Volcano Art Center's 2020 Exhibition Calendar.
February 22 – March 29, 2020 – Emily Herb and Margaret Barnaby – Pottery and woodblock prints
April 04 – May 10, 2020 – Kaeo Izon – Lauhala
May 16 – June 2020 – Marian Berger – Watercolor
June 27 – August 02, 202 – Nelson Makua and Kainoa Makua – Prints and Pottery
August 08 – September 13, 202 – Hawai`i Ne`i Invitational
September 19 – November 01, 2020 – Catherine Robbins – Oil Painting
November 20 – December 31, 2020 – Christmas in the Country