When:
May 20, 2017 @ 10:00 am – 1:00 pm
2017-05-20T10:00:00-10:00
2017-05-20T13:00:00-10:00
Where:
Volcano Art Center Niaulani Campus
19-4074 Old Volcano Rd
Volcano, HI 96785
USA

Cost:
$35/$30 VAC members plus a $10 supply fee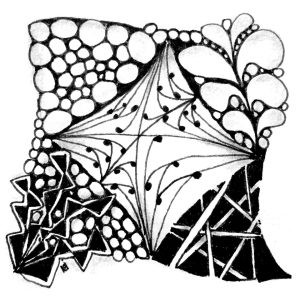 Zentangle®: Basics and Beyond 
Saturday, May 20, 2017 | 10am – 1pm
Basics
▪ This class is an introductory class and the best place to begin. You will learn the Zentangle philosophy and method as you are gently guided to create a beautiful work of art that you can be proud of. No artistic experience is necessary. You will be given an introductory kit of Zentangle supplies and will be working on the Zentangle white 3 1/2 inch square tile with a Sakura black pigma pen.
Beyond Basics (for returning students)
▪ Students are encouraged to repeat the Basics. There is always something new that will be explored.
• A different canvas will be provided for Beyond Basics students
• In this class you will be creating a 4 tile ensemble with a touch of Gold
Introduction to the Zentangle® Method 
The Zentangle method is an easy-to-learn, relaxing and fun way to create beautiful images by drawing structured patterns. It was developed by Maria Thomas and Rick Roberts, who believe that "Anything is possible – one stroke at a time"™ and that everyone is an artist!
If you can draw a dot, line, curved line, reversed curve or S, and a circle, you can create Zentangle art.The repetitive nature of this process brings you to a state of relaxed focus that some call meditation.
Benefits of a Zentangle Practice
Confidence
Empowerment
Focus
Inspiration
Relaxation
Increased Awareness
Principles of the Method 
There is no up or down
There is no left or right
It's non-representational
Deliberate strokes
No mistakes!
Fun and relaxing
Who are Rick and Maria? 
Maria Thomas and Rick Roberts are a husband and wife team who live in Massachusetts. She is an amazing artist and calligrapher. He is also an amazing artist and was a practicing monk. They created this meditative art form together, to empower anyone without any artistic experience, to learn to generate beautiful art by drawing structured patterns.
What is a CZT?
A Certified Zentangle Teacher (CZT) has been trained by Maria and Rick to guide students in the mindful, meditative practice of the Zentangle method. We aim to demonstrate the tangle patterns and techniques in a supportive, encouraging and caring environment. There are no mistakes in Zentangle art. The method can be used to conquer your stress and relax your mind. It has been described as yoga for the brain.
Our Classes
▪ Classes are 3 hours in length
Light refreshments are provided
All supplies are included
It is recommended but not required that you attend a Basics Class before taking other Zentangle classes.
Cost is $35/$30 VAC members plus a $10 supply fee