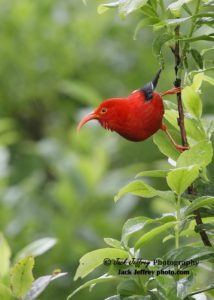 Thursday Night at the Center: The Joy and Challenges of Native Bird Photography in Hawai'i with Jack Jeffrey 
Thursday, July 19 at 7pm
Photographer and biologist Jack Jeffrey will share his experiences on "The Joy and Challenges of Native Bird Photography in Hawai'i" on Thursday, July 19, 2018 from 7 – 9pm at Volcano Art Center Ni'aulani Campus in Volcano Village.
Many of Hawai'i's native forest birds are seldom seen and rarely photographed. Often found only at higher elevations in remote rain forests, many of these birds are critically endangered, some having only a few hundred individuals remaining in the wild. In their rainforest habitats, the weather is often rainy, foggy, cold, and wet, extreme conditions prevail, not good for photographers or their camera equipment.  These primeval forests are often only accessible by helicopter or by hiking many hours along muddy slopes and trails. For this presentation, Jack Jeffrey will bring to life his experiences, challenges, and joys of photographing Hawaii's native forest birds with his enchanting stories and colorful photos of these elusive native forest birds and their native habitats.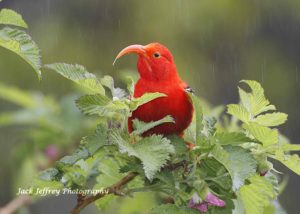 A longtime resident of Hawaii Island, photographer and a wildlife biologist Jack Jeffrey, is intimately familiar with Hawaii's hidden valleys and remote rainforests. He brings to his photographs the knowledge of 40 years of observation and study of Hawaii's endemic birds. Combined with a naturalist's curiosity, a photographer's patience and technical skill, Jack captures the spirit of Hawaii's rare forest birds, plants and other natural treasures in his wonderful photographic images. Jack is recipient of the prestigious 2002 Ansel Adams Award for Nature Photography, 2006 The Nature Conservancy of Hawaii, Kako'o Aina Award for Conservation Photography, and is co-author of three books on Hawaii's birds. Jack's bird and natural history photographs have been featured in numerous worldwide publications.
This event is free, although a $5 donation to Volcano Art Center is greatly appreciated. For more information, please call VAC at (808) 967-8222 or visit www.volcanoartcenter.org.
This evening is part of a once-a-month Thursday night series at the Volcano Art Center, focusing on art, Hawaiian culture and our environment.  The series is intended to inspire and enhance your appreciation of art and life experience, while fostering community connections.