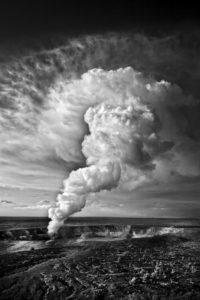 Thursday Night at the Center: Stories from the Summit 
Thursday, January 24, 2019 at 6:30pm
Everyone has a story! Residents of the Kīlauea's Volcano community experienced 90 consecutive days of earthquakes this past summer. Sixty-three of these quakes were of a 5. magnitude or higher.  It was an extraordinary time and accounts of events that changed the summit landscape and closed our National Park for months are worth hearing.  Join us on Thursday, January 24 at 6:30pm for Stories from the Summit, an evening of personal accounts by Volcano residents. Hosted by Volcano novelist Tom Peek, the evening will consist of varied tales by those living and working at Kīlauea's summit.
Residents of Leilani and the coastal communities have their stories, while those at the top of the Volcano have very different tales to tell of the largest eruption in a century. The evening will be the first in a new storytelling series, beginning with personal accounts of the eruption of 2018.  As you hear your friends and neighbors, Park employees and scientists, children, parents, and grandparents tell their stories,  think of your own and, on the next occasion, step up to tell your tale of life on this living Volcano.
This event is free, although a $5 donation to Volcano Art Center is greatly appreciated. For more information, please call VAC at (808) 967-8222 or visit www.volcanoartcenter.org.
This evening is part of a once-a-month Thursday night series at the Volcano Art Center, focusing on art, Hawaiian culture and our environment.  The series is intended to inspire and enhance your appreciation of art and life experience, while fostering community connections.