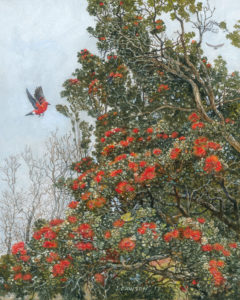 Thursday Night at the Center: "An Evening with John Dawson" 
August 31, 2017, from 7pm – 9pm
In conjunction with the VAC Gallery exhibit, Live Long and Prosper Mighty ʻŌhiʻa, artist John Dawson will be sharing his art as well as personal stories and inspiration during this evening's event. The exhibit will also celebrate Dawson's 80th birthday!
Dawson's past artwork is included within the maps provided to all visitors to Hawai'i Volcanoes National Park as well as the stunning educational display inside the Kīlauea Visitor Center.  One of Dawson's proudest accomplishments is the Nature in America stamp series which includes a lively depiction of The Hawaiian Rainforest created for the United States Postal Service.
Dawson's resume includes many major assignments and has appeared in national publications for the National Geographic Society, National Wildlife Federation, Audubon Society, United Nations and the 'Imiloa Astronomy Center, among others.
With decades of experience, Dawson's work continues to captivate and grace the walls of many island residents who appreciate Hawai'i's native flora and fauna.
"VAC is honored to celebrate eighty years of art and life," states gallery manager Emily C. Weiss. Join us for a special evening with the artist!
This presentation is free; however, a $5 donation is greatly appreciated.
This evening is part of a once-a-month Thursday night series at the Volcano Art Center, focusing on art, Hawaiian culture and our environment.  The series is intended to inspire, enhance your appreciation of art and life experience, while fostering community connections.