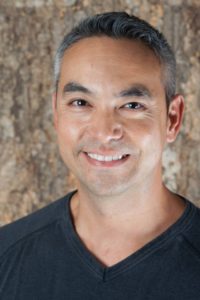 The Fascianation Method 
Presented by Founding Member of the Fascia Research Society, Anthony Chrisco
Tuesday, December 11, 2018 | 2 – 4pm
In this workshop, Anthony will give a brief introduction of the method and the tool he developed to bring more healthy awareness to our bodies. There will be a guided full body 'roll' and Q & A afterwards. Cost is $25 per person. Anthony will bring rollers for the participants to use and for purchase along with a video presentation.
Anthony Chrisco, BS, is a founding member of the Fascia Research Society and a Continuing Education Provider for the National Academy of Sports Medicine and the American Council on Exercise. He is the developer of TheFascianatorTM Roller and the Fascianation MethodTM, used to find and eliminate the stress in the body so the body can heal itself.
Anthony lectures and teaches both professionals in health and fitness and other allied health professions about the human body's fascial system, recently classified as an organ system in 2012. His techniques have helped hundreds of people suffering from numerous chronic pain disorders.
The fascia can exert up to 2000 pounds of pressure per square inch on our bodies and x-rays & MRI's cannot see these areas of tension; referred to as myofascial adhesions. The FascianationMethodTM involves using a fitness roller to assist in the release of these myofascial adhesions.
Rolling out the muscles relax the fascia that surround them causing the release of pressure on the nerves, arteries, veins and lymphatic vessels that cause pain, numbness, tingling, weakness and inflammation. Here is a list of ailments that The Fascianation MethodTM can help alleviate:
Plantar Fasciitis/Heel Pain
Gout
Diabetic Foot
Shin Splints
Anterior Compartment Syndrome
Creaky Knees
I.T. Band Syndrome
Sciatica
Low Back Pain
Migraine/ Tension Headache
Tennis/Golfer Elbow
Carpal Tunnel Syndrome
Trigger Finger (When the finger cannot straighten after bending.)
Constipation
Hip Pain
Ovarian Cysts
Incontinent Bladder
Frozen Shoulder Syndrome
Visit www.thefascianator.com for more information.