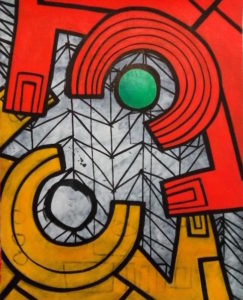 Panel Discussion for "NIUHI-SHARK: Honoring Kamehameha the Great in Paint and Prose"
Volcano Art Center is proud to announce the next fine art exhibition to be displayed at the Volcano Art Center Gallery in  Hawai'i Volcanoes National Park from February 16th – March 24th, 2019.  The exhibition titled NIUHI-SHARK honors Kamehameha The Great in both paint and prose with original paintings created by Carl F.K. Pao paired with selections from the book Kamehameha–The Rise of a King by Kāwika Eyre.  The exhibit in commemoration of the 200th anniversary of King Kamehameha's death will open on Saturday, February 16th with artist and author present at an opening reception from 5 to 7pm. The public is also welcome to attend a panel discussion the day before on Friday, February 15th at 5:30pm at the Volcano Art Center's Ni'aulani Campus in Volcano Village.
This panel discussion kicks off the events and programs which support the exhibition.  All are invited to hear different perspectives on the life of Kamehameha, in particular his complex relationship with the Ka'ū chief Keōua.  The exhibit and supporting events promise paint, prose, protocol and conversations providing cultural, historical, and educational experiences.