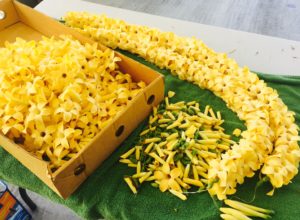 May Day is Lei Day
Come celebrate May Day at the Volcano Art Center Gallery porch on Monday, May 1st!  Everyone is invited to join in the festivities from 11am – 1pm, featuring hands on lei making demonstrations with master lei makers Randy Lee, Kaipo AhChong and Dana Castro.
May Day honors the unique way that Hawaiʻi's multi-cultural traditions are woven  together to create a more interesting, more tolerant and more beautiful community.  With hundreds of fragrant blossoms and plant materials provided by the Volcano Art Center Gallery, learn tips to sewing the perfect lei, the proper protocol of giving and receiving a lei and more.
There will also be live music by Wes Awana and friends, and impromptu hula dancing by Noe Noe Kekaualua.  Volcano resident Wes Awana is a popular local musician and ʻukelele teacher, and will share his love of Hawaiian music.  One of Hawaiʻi's finest hula dancers, Noe Noe Kekaualua, was born and raised in Hilo, Hawai'i, and has a love and passion for Hawaiian culture that has taken her around the world.  She began studying the art of hula at age 4 and has been engaged in this art ever since.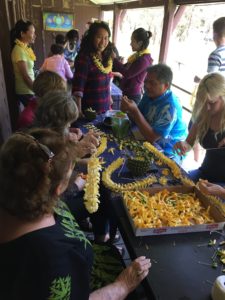 Master lei maker, Randy Lee uses a variety of natural materials to fashion gorgeous lei from the freshest fern, leaves and flowers that he personally gathers from the rain forests of Panaʻewa.  Well-respected practitioner Dana Castro creates meticulous lei and adornments, and lets his work speak for itself.  Tropical agriculture farmer Kaipo AhChong will also share his expert lei-making skills. As a member of Hālau Na Kamalei, his unique experience marries the science of agriculture with Hawaiian lei and hula traditions.
This free event at the VAC Gallery in Hawaiʻi Volcanoes National Park is supported in part by a grant from the Hawaiʻi Tourism Authority, the County of Hawaiʻi,  and individual funding from members of the Volcano Art Center's ʻOhana.  National Park entrance fees may apply.