When:
January 12, 2019 @ 10:00 am – 1:00 pm
2019-01-12T10:00:00-10:00
2019-01-12T13:00:00-10:00
Where:
Volcano Art Center Niaulani Campus
19-4074 Old Volcano Rd
Volcano, HI 96785
USA

Cost:
$35/$30 VAC members plus a $10 supply fee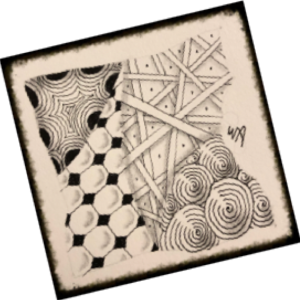 Introduction to Zentangle® with Ellen O'Dunn
January 12, 2019
10AM-1PM
What is Zentangle®?
The Zentangle method is an easy-to-learn, relaxing, and fun way to create beautiful images by drawing structured patterns. Almost anyone can use it to create beautiful images. It increases focus and creativity, provides artistic satisfaction along with an increased sense of personal well-being. The Zentangle Method is enjoyed all over the world, across a wide range of skills, interests, and ages. We believe that life is an art form and that our Zentangle Method is an elegant metaphor for deliberate artistry in life.
This class will provide you with a background in the history of Zentangle, introduce you to the basic steps of the method, and expose you to the associated vocabulary and tools used. You will create actual Zentangle tiles using 5 elemental strokes, the repetitive nature of the process bringing you to a state of relaxed focus that some call meditation. The Zentangle Method, developed by Maria Thomas and Rick Roberts, will fuel your creativity as you discover that "Anything is possible – one stroke at a time." 
Principles of the Method:
There is no up or down
There is no left or right
It's non-representational
Strokes are deliberate
There are no mistakes!
It is totally fun and relaxing
Benefits of a Zentangle Practice:
Confidence
Empowerment
Focus
Inspiration
Relaxation
Increased Awareness
What is a CZT?
A Certified Zentangle Teacher (CZT) has been trained by Maria Thomas and Rick Roberts to guide students in the mindful, meditative practice of the Zentangle method. We will demonstrate the tangle patterns and techniques in a supportive, encouraging, and caring environment. There are no mistakes in Zentangle art. The method can be used to conquer your stress and relax your mind. It has been described as yoga for the brain.
Our Classes
3 hours in length
All supplies are included
It is recommended but not required that you attend a Basics class before taking our other classes
Please bring a light refreshment to share
Cost is $35 / $30 VAC members plus a $10 supply fee. Please bring a light refreshment to share.