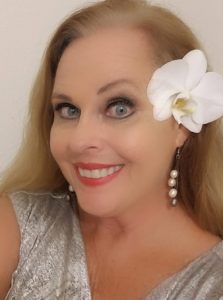 Hula Voices featuring Christy Leina'ala Lassiter
Wednesday, May 1 | 5:30-7pm
The Volcano Art Center's 2019 Hula Voices series continues on Wednesday, May 1.  The program features musician Christy Leina'ala Lassiter, with moderator Desiree Moana Cruz.  Hula Voices is an oral history project, presenting an engaging, intimate "talk story" session with Hawai'i Island's hula practitioners & musicians, as they share their hula genealogy, traditions, protocols and experiences. These free, educational offerings occur regularly on the first Wednesday of each month, from 5:30– 7:00pm at the Volcano Art Center Gallery in Hawai'i Volcanoes National Park. Park entrance fees may apply.
Christy Lassiter has been playing Hawaiian music and dancing hula since she was 8 years old. She is part Hawaiian on her mother's side and has roots in the Kona ranching community.  She is an active performing artist and plays Hawaiian music at the Hilo International Airport, The Grand Naniloa Hotel and on the cruise ship, Pride of America. She is also a recording artist and is currently working on her second CD.  Her love of Hawaiian culture lead her to develop a career built around hula and music. She performs in community music events across the state and has been a featured singer during the Merrie Monarch Hula Festival.
Please join VAC in celebrating the Hula Arts at Kīlaueawith Hula Voices. These programs are supported in part by a grant from the Hawaiʻi Tourism Authority, the County of Hawaiʻi Department of Research and Development and individual funding from members of the Volcano Art Center's ʻohana.