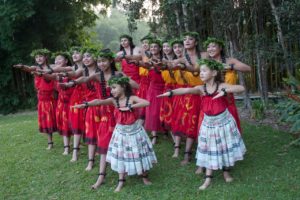 Hula Kahiko 
Saturday, August 19 at 10:30am
Featuring Halau Waiau
Halau Waiau is an offshoot of Halau Ka No'eau under the direction of Kumu Hula Liana Aveiro and Keikilani Curnan.  Na Kumu studied under Kumu Michael Pili Pang for over 30 years.
Halau Waiau is located at Ka Noho Kuahiwi in the uplands of Waimea.  The name given by Kumu Pili Pang, is after Lake Waiau located on the summit of Mauna Kea.  This constant body of water at Lake Waiau reflects the dedication and commitment of Liana and Keikilani to hula genealogy.  Waiau is a place  name on O'ahu where Liana was born and raised and a stream on the island of Kaua'i where Keikilani was raised, and where their hula roots originate.  Both kumu are graduates of Kamehameha School Kapalama campus in Honolulu.
This performance is part of a year-round series sponsored by the Volcano Art Center.  For the series, hula halau from across Hawai`i and beyond are invited to perform each month in a one-of-a-kind outdoor setting at the kahua hula (platform) in the Hawai`i Volcanoes National Park.
This presentation will be presented authentically in an outdoor setting, rain or shine without electronic amplification. Audience members are encouraged to bring sun/rain gear and sitting mats.