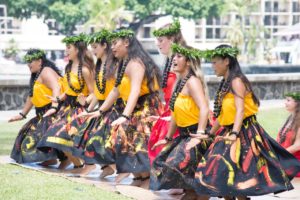 Hula Kahiko ft. Kumu Hula Liana Leiʻʻilima Aveiro with Hālau Malanai
Saturday, October 13 at 10:30am
Hālau Malanai under the direction of Kumu Hula Liana Leiʻʻilima Aveiro is an offshoot of Hālau Hula Ka Noʻeau.  Kumu Liana studied under  Kumu Hula Michael Pili Pang for more than  20 years graduating as a Kumu Hula  through traditional uniki ceremony, and passage. Their hula geneology comes from master Kumu Hula Auntie Miki Aiu Lake.
The Hālau is located at Konoho Kuahiwi in the uplands of Waimea with haumana from age 4 to adult women.  Hālau Malanai's name was given by Kumu Hula Pili Pang and takes us to one of our core Hula auwana "Waika. "  Located in this area our Hālau Malanai carries the name of the distinct Breeze that is clean, cool, and refreshing.  A breeze that promotes  love on many different levels.
This performance is part of a year-round series sponsored by the Volcano Art Center and the County of Hawai'i, Community Enrichment Program.   For this series, hula halau from across Hawai`i and beyond are invited to perform each month in a one-of-a-kind outdoor setting at the kahua hula (platform) in the Hawaiʻi Volcanoes National Park.
This presentation will be presented authentically in an outdoor setting, rain or shine without electronic amplification. Audience members are encouraged to bring sun/rain gear and sitting mats.