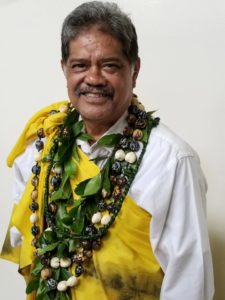 Hula Kahiko featuring Kumu Hula Kahoʻokele Crabbe and Halauokalani
This performance is part of a year-round series sponsored by the Volcano Art Center at the Pa Hula (hula platform) near the Volcano Art Center Gallery in Hawaiʻi Volcanoes National Park.
Kumu Hula Moses Kahoʻokele Crabbe founded Halauolaokalani in 1999, after graduating in 1995 at Puʻupueokapu, Waikane, Oʻahu with traditional ʻuniki ceremonies under his teacher kumu hula Robert Uluwehiokalanionapuaikawekiu Cazimero.  He is an educator, advocate and support for our greatest community asset – our beloved keiki o ka ʻaina.  His motto is simple: "Aloha trumps everything in man's world because God is love."
This presentation will be presented authentically in an outdoor setting, rain or shine without electronic amplification. Audience members are encouraged to bring sun/rain gear and sitting mats.
These free events are supported in part by a grant from the Hawaiʻi Tourism Authority, the County of Hawaiʻi Department of Research and Development and individual funding from members of the Volcano Art Center's ʻohana.