When:
August 26, 2017 @ 9:00 am – October 8, 2017 @ 5:00 pm
2017-08-26T09:00:00-10:00
2017-10-08T17:00:00-10:00
Where:
Volcano Art Center Gallery
Hawaiʻi Volcanoes National Park
Hawaii Volcanoes National Park, HI 96718
USA

Cost:
Free, although park entrance fees apply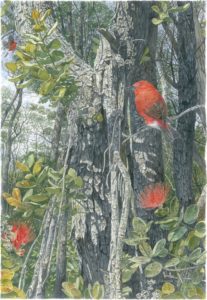 EXHIBIT: "Live Long and Prosper Mighty ʻŌhiʻa" by John Dawson
Join Volcano Art Center (VAC) in celebrating the artwork and 80th birthday of artist  John D. Dawson with a special opening reception for his show, Live Long and Prosper Mighty ʻŌhiʻa," on Saturday, August 26th from 5-7PM.
This exhibition features drawings and paintings depicting the naturally occurring diversity of ʻōhiʻa trees found within Hawaiʻi Volcanoes National Park. The exhibition will be on display through Sunday, October 8th, 9 am – 5pm daily at the Volcano Art Center Gallery in Hawaiʻi Volcanoes National Park. The exhibit is free, however park entrance fees apply.
Dawson will also be sharing his art as well as personal stories and inspirations in an evening presentation on August 31st from 7-9 PM at VAC's Niaulani Campus in Volcano Village.  This free event is part of Volcano Art Center's Thursday Night At The Center program.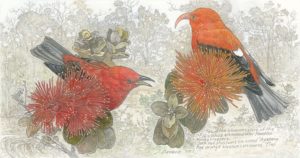 Collectors of John's work appreciate his eye for realism.  His detailed paintings and drawings include both biological accuracy and the skillful rendering of the subtlest details of flora and fauna.
Nature lovers appreciate being able to get up close and personal with wildlife through his artwork.  If you have ever poured over the detailed centerfolds of National Geographic Magazine you may have been drawn into the natural world recreated by Dawson for this publication.
Dawson's artwork is also featured in the maps provided free to visitors to Hawaiʻi Volcanoes National Park as well as in the stunning educational display inside the Kilauea Visitor Center.  One of Dawson's proudest accomplishments is the Nature in America stamp series which features a lush depiction of The Hawaiian Rainforest created for the United States Postal Service.

In addition to his work in the National Geographic Society, he also created artwork for The National Wildlife Federation, The Audubon Society, The United Nations and the 'Imiloa Astronomy Center, among others.
With decades of experience, Dawson's work continues to captivate and grace the walls of many island residents who appreciate Hawai'i's native flora and fauna.
This particular exhibit of Dawson's work is special because he depicts of one of Hawai'i's most beloved trees: the ʻōhiʻa Lehua.  "This is surely an exhibit not to missed," said gallery manager Emily C. Weiss.  "The fact that each tree depicted in his artwork is an actual tree present in our park shows the many variations found within the species.  We also hope the exhibit will bring awareness and understanding to the threat of Ceratocystis fimbriata, the fungal disease more commonly known Rapid ʻŌhiʻa Death or ROD, which is currently attacking and killing the most abundant native tree on our island," said Weiss.