When:
May 12, 2018 @ 9:00 am – June 24, 2018 @ 5:00 pm
2018-05-12T09:00:00-10:00
2018-06-24T17:00:00-10:00
Where:
Volcano Art Center Gallery
Hawaiʻi Volcanoes National Park
Hawaii Volcanoes National Park, HI 96718
USA

Cost:
Free although park entrance fees apply.
Volcano Art Center is pleased to announce the exhibition Na Loko Iʻa O Hawaiʻi Nei: Fishponds Of Hawaiʻi by Carol Araki Wyban.  This mixed media, fine art exhibition presents Hawaiian fishponds as cultural treasures that provide a deep and profound insight of ancient Hawaiian perspectives in relation to their environment.  The land-to-water management system of the ahupuaʻa and fishponds can teach us how to manage our natural resources today. The pen and ink drawings and original paintings in this exhibit by Wyban demonstrate a deep understanding of types of ponds, fish, technology and legends. The exhibit is open to the public on May 12th through June 24th at the Volcano Art Center Gallery in Hawaiʻi Volcanoes National Park.  The public is invited to an opening reception to meet the artist on May 12th from 5-7pm.  While the reception and exhibition are both free, park entrances fees apply.
Since childhood, Carol Wyban wished to be an illustrator.  Illustrations of world mythology were constant inspiration.  At the University of Hawaiʻi she studied fine art, psychology and dance.  Her studies and life changed when she met and married Jim, a fish biologist in the completion phase of his PhD.  In 1981 the opportunity arose for them to sub-lease a fishpond and small plantation house at Lokoea in Haleʻiwa on Oahu.  There they caught fish using technology that was developed by the ancient Hawaiians. "At these times, it was as if we stepped through a window in time, blessed by this fishpond that was used across centuries, the following morning, we could be found selling fish at the City and County Open Market out of a van in a parking lot," explains Carol.  Jim researched history, production and worldwide applicable information.  Carol researched culture and mythology and combing through museum archives searching for maps, early missionary diaries and letters, and creating pen and ink drawings to serve as educational and lecture tools.  After leaving Lokoea fishpond, Carol found the time to illustrate fishpond mythology and write a book Tide and Currents: Fishponds of Hawaiʻi published by the University of Hawaiʻi Press.  She is the subject of a film Hawaiian Fishponds produced by Na Maka o ka Āina.  Her studies and plans are available in the Hawaiʻi State Public Library System.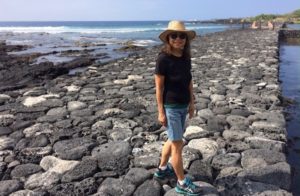 In conjunction with the exhibition Wyban and the Volcano Art Center will host a series of educational offerings providing an in depth exploration of various fishponds of Hawaiʻi island. The first offering is a slideshow and lecture on Thursday, May 17th at 7pm at Volcano Art Center's Niaulani Campus in Volcano Village.  As part of the Thursday Night At The Center program the lecture intends to inspire and enhance the appreciation of art and life experiences while fostering community connections on Hawaiʻi Island.  The lecture will include images from the exhibition as well as photos of modern activity at Hawaiian Fishponds.
On Monday, June 11th VAC will screen the film Hawaiian Fishponds at 7pm as part of the Monday Movie Nights. Special guest Joan Lander will join Wyban for a short discussion after the film at Hale Hoʻomana at VAC's Niaulani Campus in Volcano Village.
A series of three outdoor excursions exploring Hawaiʻi Islands fishponds are planned.  The first site visit to Kaloko-Honokohau National Historical Park with members of the volunteer group, Hui Kaloko-Honokohau, is planned for May 31stfrom 11am -2pm.  A second, site visit is scheduled for Tuesday, June 5th at 11am at the Kalahuipua'a Fish Ponds at the Mauna Lani Bay Hotel and Bungalows.  Cultural historian, Danny Kaniela Akaka will share the history and legends of the area.  A third and final site visit includes an overnight camping event coupled with a service project with the Nature Conservancy at Kīholo Bay is scheduled for Thursday, June 21st –Friday, June 22nd. Participation in the various site visits is limited.  Transportation is not included however carpooling may be arranged. Registration is required by calling the Volcano Art Center at (808) 967-8222.
To learn more about Carol and her artistic process visit her bio page
here
.