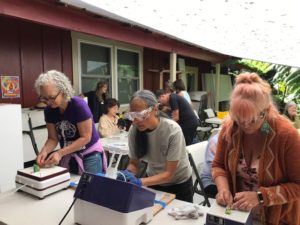 Aloha Wednesday Art Classes – Creative Arts at Ni'aulani, every Wednesday from 11am -1pm
Join VAC in a series of visual art classes every Wednesday at Volcano Art Center's Niaulani Campus in Volcano Village.  These weekly short classes focus on a wide range of visual art activities. 
Classes focusing on the Volcano Art Center Community Mosaic Project will meet on the following dates in March:
March 6 – Fused Glass tile making for ʻAlalā mosaic with Claudia McCall
March 13 – Glass tile making for Dietrich Varez "Mighty Ohia" mosaic with Maria Macias
March 20 & 27 – Clay tile making for "I Love Volcano" mosaic – with Lisa Louise Adams or Erik Wold
The mural will be on Hale Ho'mana's exterior wall for many years.  For more information- email Julie Williams at volcanowilliams@gmail.com.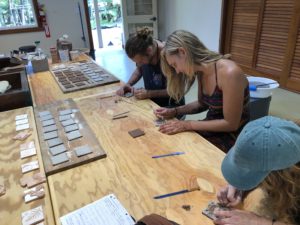 We need your tile and broken ceramics donations to contribute to the community mosaic project! Please bring your donations to VAC's Ni'aulani Campus in Volcano Village where there is a donation station outside of Hale Ho'omana.
These visual art programs are supported in part by a grant from the County of Hawai'i Office of Research and Development. Please contact 967-8222 for more information.