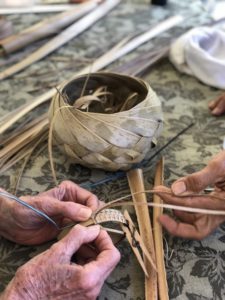 Aloha Wednesday Art Classes – Creative Arts at Ni'aulani, every Wednesday from 11am -1pm
Join VAC in a  series of visual art classes every Wednesday at Volcano Art Center's Niaulani Campus in Volcano Village.  These weekly short classes focus on a wide range of visual art activities.
October's classes focusing on Lauhala weaving with Kuuipo Kalahiki-Morales will meet on October 10th and 24th.
Classes meeting on October 3rd and 17th will kick off the Community Mosaic Mural project at Hale Ho'omana.  Come join Erik Wold for free ceramic tile making sessions on October 3rd and October 17th.  The community is invited to create tiles to be place in a large mosaic entitled "I Love Volcano". Make your house, you walking your dog, one of our stores, anything that says "I am a Volcano community member". Erik will guide you through the process and your finished product will be on Hale Ho`omana's exterior wall for many years.  For more information- email Julie Williams at volcanowilliams@gmail.com
These visual art programs are supported in part by a grant form the County of Hawai'i Office of Research and Development. Please contact 967-8222 for more information.