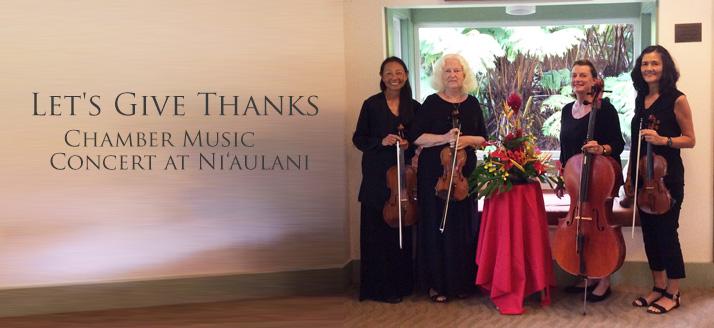 Volcano Art Center is pleased to present the Volcano Chamber Players, a string quartet, in a classical chamber music concert to kick off the holiday season and celebrate two holidays in November: Veterans Day and Thanksgiving.  The "Let's Give Thanks Concert" happens on Sunday, November 12, from 3pm – 5pm at Volcano Art Center's Ni'aulani Campus in Volcano Village.
Music by American composers will be featured, including popular songs by George Gershwin, Scott Joplin, and Jay Unger. Classical string quartets by Wolfgang Amadeus Mozart and Franz Joseph Haydn will also be included in the program.
The Volcano Chamber Players include Glenda Johnson and Rumi Reeves on violin, Susan McGovern on viola, and Meg Saunders on cello. Roland Maurer, concert oboist from Kona, will make a guest appearance on the Divertimento by Bernard Henrik Crusell.
The Great Room provides the perfect setting for an intimate afternoon of music in the forest, steps away from the Ni'aulani Sculpture Garden. Enjoy plenty of fun music for everyone, with light refreshments served during intermission.
Tickets for the concert are $25/$20 for VAC members. The last day to purchase tickets online is Friday, November 10. Tickets will be sold at the door on the day of the event.

Funds raised from this event will support the Ni'aulani Sculpture Garden and ongoing programs at Volcano Art Center. Volcano Art Center Ni'aulani Campus is located at 19-4074 Old Volcano Road in Volcano Village.
About the Volcano Chamber Players
Glenda Fern Johnson is a classically-trained violinist. She started violin at the age of 5 in England, continued her training in Missouri and California, and received a Bachelor's of Music Education from the University of Central Missouri. She has taught music, English, and in her home studio. Glenda was Concertmaster of the Independence Community Symphony, was a first violinist in the St. Joseph Symphony in Missouri, and also was the Concertmaster of the Scottsdale Symphony in Arizona for many years.
In addition to playing violin, Glenda is also an accomplished pianist and singer. She retired to Hilo four years ago, which is where her mother and grandparents lived for many years. Presently she is a member of the Orchid Isle Orchestra and the Volcano Chamber Players, and recently retired from the Kamuela Philharmonic Orchestra. She teaches private lessons in her home in Pahoa and in Hilo.
Rumi Reeves began her classical violin training at 9 years old. She continued her studies, graduating as a Music Major from California State University, Long Beach in the early 1980's. Taking various other non-musical paths along the way, she spent the last 20+ years as a Data Architect in the I.T. (Information Technology/Computer Applications Development) industry.
She moved to Pahoa 3 years ago, and her recent retirement has brought her full circle back to her love of music – and living her dream of playing the violin again. She is taking lessons from Michael Russell, and is a current member of the Orchid Isle Orchestra, a new member of the Kamuela Philharmonic Orchestra and also participates in several string quartets.